Below is a list of five beaches in Florida that aren't nationally recognized but are a great place to unwind. This list was compiled by Matt O'Hern, a journalist and lifelong Florida resident. O'Hern has traveled the state from Pensacola to Key West, climbed most of Florida's lighthouses, and fished many piers during the past 38 years.
5. Jensen Beach: Not as nationally known as Vero to its North or Palm Beach to its south, Jensen Beach once was known as the "Pineapple Capital of the World" and still has an annual Pineapple festival. Scuba diving and sailing are popular just off the shore, but for land sharks who prefer to stay dry, Jensen Beach touts a wide variety unique shops and fine dining options.
4. Navarre Beach: Most have heard of Northwest Florida's most popular coastal destinations such as Pensacola, Destin and Panama City, but Navarre Beach, also known as "Florida's best kept secret"  can please all members of the family. You won't find crazy parties, but you will find 12 miles of relatively secluded beach which includes a fishing pier, nature trails and bicycle paths. Navarre's beautiful white sand gained enough attention from Hollywood to be chosen as the filming location for the sequel to "Jaws."
3. Neptune Beach: Nestled next to Jacksonville, Neptune Beach is appreciated by locals and native Floridians as an easy escape from the larger crowds. Neptune Beach is one of several towns on San Pablo Island, which spans through Duval and St. John's County from Naval Station Mayport to Vilano Beach near St. Augustine.  San Pablo Island, which stretches through two counties (Duval and St. Johns) and extends from Naval Station Mayport at its northern tip to Vilano Beach in the south, across from St. Augustine.
2. Honeymoon Island: East of Dunedin, Honeymoon Island's beach is dog friendly and a fun refuge from the controlled chaos also known as Clearwater Beach, further up the coast.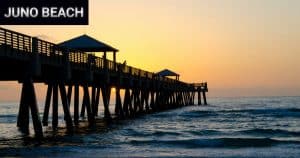 1. Juno Beach: Just south of Palm Beach & Riviera Beach, Juno Beach is a favorite destination for adventurers and anglers who enjoy the abundant marine life. Thousands of snook and other beautiful gamefish swim under the pier, as well as sharks, dolphins.