cd 15 mike synan

-

search results

If you're not happy with the results, please do another search
With the clock ticking until Tuesday's primary, a new poll shows former state Rep. Neil Combee holding a slight lead over state Rep. Ross Spano, R-Riverview, in the Republican primary to replace retiring U.S. Rep. Dennis Ross, R-Fla.
Kushmer is a former farmer and government relations consultant for the Southwest Florida Water Management District and the owner of several small businesses. With such a lengthy business resume, Kushmer is clear why he is running. 
State Rep. Amy Mercado, D-Orlando, is doing something that isn't seen very often and which is highly discouraged by political parties: taking on a sitting incumbent from her own party.
As I sit in a ballroom at the Rosen Shingle Creek Resort where Ron DeSantis has been crowned as the next Republican gubernatorial nominee...
Former state Rep. Neil Combee has the edge in the competitive Republican primary to replace retiring U.S. Rep. Dennis Ross, R-Fla., a new poll...
Spano went to the hospital in the third week of July with what his campaign described as a mild cardiac event. 
Combee had to resign from his appointment by Trump to the USDA to run for Congress. While he called the appointment an honor,  the call for help was enough for Combee to resign and roll the dice by running for Congress.
Trying to replace Dennis Ross in Congress, developer Sean Harper hopes voters will want someone with his business background in Washington D.C. instead of better known candidates.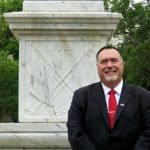 In the second of a series, Mike Synan delves into why Dr. Ed Shoemaker decided to run for Congress even before U.S. Rep. Dennis Ross bowed out.