 State Sen. Joe Gruters, R-Sarasota, was one of the first Republicans in the nation to get on the Donald Trump bandwagon. Now Gruters has a chance to expand his profile on the national level.
This week, Gruters, now the chairman of the Republican Party of Florida (RPOF), was tapped by Republican National Committee (RNC) Chairwoman Ronna McDaniel to head up a new Committee on Election Integrity which is "dedicated to restoring election transparency and ensuring voters have confidence in future election processes" and "will work closely with state parties and other stakeholders in our elections across the country on voting policies and best practices, such as ensuring poll watchers are allowed to properly observe counting processes, meaningful voter ID laws are codified, and all Americans have faith in our elections process."
"Election integrity is one of the most critical issues we face as a party and as a country. What we saw this past election – states undoing important safeguards, bypassing the proper legislative processes, and changing election laws in the eleventh hour – was deeply troubling and brought chaos and uncertainty to our sacred democratic processes. As RNC chair, I will not sit idly by and the party will respond. The RNC will play a crucial role in restoring confidence in our elections, promoting election integrity, and recommending best practices to ensure that future elections are free, fair, and transparent," said McDaniel
"It is a great privilege for me, and an honor for the state of Florida, to be named by the RNC to such an important committee, coming as it does on the heels of a national election with so many irregularities creating distrust," said Gruters. "In Florida, we have created a system where we ensure that every legal vote counts, making it as easy as possible to vote and as hard as possible to cheat. We've shown clearly that even in a large, diverse state, elections can be fair, free and transparent with results delivered in a timely manner."
A longtime GOP leader who led the Sarasota County GOP, Gruters was elected to the Florida House in 2016. Two years later, Gruters made the transition to the Senate when he won a seat in the upper chamber. At the start of 2019, Gruters was elected to serve as chairman of the RPOF. While Trump lost the presidency in November, he did carry Florida. Under Gruters, the GOP made strides in Florida in 2020, flipping two congressional seats in South Florida and expanding its majorities in both chambers of the Legislature.
After these results, it came as no surprise that the RPOF turned to Gruters for two more years. He'll chair the RPOF in the 2022 election cycle as Gov. Ron DeSantis gears up to run for a second term and U.S. Sen. Marco Rubio, R-Fla., is up for a third term.
Reach Kevin Derby at kevin.derby@floridadaily.com.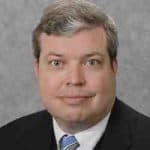 Latest posts by Kevin Derby
(see all)