Defeated in his bid for a fourth term in Congress, former U.S. Rep. Al Lawson, D-Fla., looked back on his time on Capitol Hill.
After the latest round of redistricting and placed Lawson in a far more red district than the one he represented, Lawson lost to U.S. Rep. Neal Dunn, R-Fla., in November in a rare contest matching two incumbents against each other.
"It has been my great honor and privilege to serve this community and look out for your interest in Congress these past six years. As my term comes to an end, I wanted to pause and reflect on some of the great work we that we have been able to accomplish together," Lawson said in his farewell message. :Throughout my thirty-four years in public service — in the Florida Legislature and in Congress— I have always been impressed by the strength of the people in North Florida. I know that these past few years have been incredibly challenging, but the way we have responded with compassion and tenacity continues to inspire me. Together we have faced the challenges of a global pandemic, an attack on our democracy, and several hurricanes– but we have come out on the other side, stronger than before.
"We have passed landmark legislation that will stand the test of time. During the darkest days of the pandemic, we have done just as the 'Good Book' called us to do in Mathew 25:40 to take care of 'the least of these' by providing much needed assistance directly to families to keep food on their tables and a roof over their heads," Lawson continued. "We helped keep people employed and provided much needed support to small businesses through the Paycheck Protection Plan. We also passed the American Rescue Plan and made transformative investments in our community through the Infrastructure Investment and Jobs Act which will continue to pay dividends for years to come."
Lawson focused on how he helped schools in his district which, before redistricting, went from Jacksonville and stretched past Tallahassee to Gadsden County.
"Growing up, I never imagined that I would hold elected office, much less be a member of the U.S. House of Representatives. My family, and this community, taught me the value of an education and hard work, and I have worked diligently to ensure that our educational institutions had the resources they need to train the next generations of future leaders," Lawson noted. "I am proud to have played a role in steering more than $500 million in pandemic relief funding to our local higher educational institutions FSU, FAMU, and TCC to ensure that learning continues to provide direct financial support to students at risk of dropping out, to keep students enrolled and on track to graduate. Additionally, I am proud to have worked in Congress to retire more than $116 million federal debt used to construct the new FAMU Towers and Polkinghorne Village residence halls. FAMU's housing system is now debt free.I was equally proud to secure more than $87 million in Elementary and Secondary School Emergency Relief funds for Leon County Public Schools, and over $28 million for Gadsden County Public Schools."
Lawson ended his farewell with a look back on his long time on the political stage.
"Scripture teaches us that for everything there is a season, a time for every purpose under heaven. My friends, no matter what title you all, have bestowed upon me — state representative, state senator, congressman— there is no greater official honor for me than to stand by the people of this community, many of whom just call me friend," Lawson concluded. "I thank you all for the friendship and support that I have been shown over the course of my career. The late Mary McCloud Bethune was fond of saying, 'service is the price we pay for the space that God lets us occupy.' Those words have guided me my entire career in public office, and I have worked every day to provide this community the service it deserves. I will continue to begin each morning with a prayer, and a firm promise to do the people's work in any capacity possible. Thank you again for your trust and support. Never stop amplifying your voice and seeking justice."
Now 74, Lawson, a star athlete at Florida A&M University who played in the National Basketball Association (NBA), is originally from Midway. A longtime leader in Tallahassee, Lawson was first elected to the Legislature back in 1982 and served in both chambers until 2010 when he faced term limits in the Senate. In his final two years, Lawson led Democrats in the upper chamber.
Lawson turned his eyes to Congress and challenged sitting U.S. Rep Allen Boyd, D-Fla. in the Democratic primary back in 2010. Boyd edged Lawson in the primary but went on to lose in November to Republican Steve Southerland. Lawson tried again two years later and won the nomination but Southerland beat him by 6 percent.
Despite making noise in 2014 that he would try for a rematch with Southerland, Lawson sat the race out only to see fellow Democrat Gwen Graham beat the Republican. In 2016, Lawson challenged scandal-plagued U.S. Rep. Corrine Brown, D-Fla., in the Democratic primary and, after she was indicted on corruption charges, defeated her 48 percent to 39 percent.
Lawson did not have long to sit on his laurels since he immediately faced a challenge in the 2018 Democratic primary by former Jacksonville Mayor Alvin Brown. When the smoke cleared, Lawson held off the challenge by an impressive margin, winning 60 percent to 40 percent.
Dunn easily defeated Lawson in November after the district was moved further west, 59.8 percent to 40.2 percent.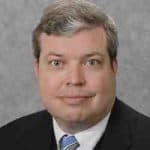 Latest posts by Kevin Derby
(see all)