After a big win in the primary on Tuesday night, U.S. Rep. Al Lawson, D-Fla., looks headed for a second term come November.
Two years ago, after two unsuccessful congressional bids, Lawson ousted longtime U.S. Rep. Corrine Brown, D-Fla., in the primary after she was indicted–and later convicted–on federal charges involving fraud. While he lost Duval County to former Jacksonville Mayor Alvin Brown, Lawson swept the rest of the district, taking 60 percent of the Democratic primary on Tuesday.
After his primary win, Lawson weighed in and praised the former Jacksonville mayor.
"I would like to thank the voters in the Fifth District who put their trust in me to lead them in Congress. I am truly humbled by the support. We had a formidable challenger in Mr. Brown, and I congratulate him on a hard-fought race. Now is the time to come together as a party to ensure this blue wave continues in the general election in November," Lawson noted.
Lawson won with 64 percent over Republican Glo Smith in the general election in 2016 two years ago and he should face little in the way of competition this November in this majority African-American and heavily Democratic district.
Standing in Lawson's way is Republican Virginia Fuller, a nurse who ran for Congress in California back in 2012. She did not have much success as U.S. Rep. George Miller, D-Calif., took 70 percent of the vote and routed her at the polls.
Turning 70 next month, Lawson is a well established political figure, having first been elected to the Legislature in 1980 with three decades of service before being term limited in the Senate back in 2010. Despite being a freshman, Lawson is the ranking Democrat on the U.S. House Subcommittee on Health and Technology.
The district stretches out across North Florida, from Jacksonville to the Big Bend, bringing in parts of Tallahassee. It includes all of Baker, Gadsden, Hamilton and Madison Counties and parts of Columbia, Duval, Jefferson and Leon counties.
Kevin Derby can be reached at Kevin.Derby@floridadaily.com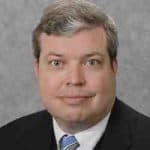 Latest posts by Kevin Derby
(see all)