Headed into the 2020 elections, Al Lawson is in a strange position–he is a heavy favorite to win a congressional election.
While he represents a fairly secure district for Democrats, Lawson hasn't had the easiest path to Congress despite having been on the Florida political stage for almost four decades.
A longtime leader in Tallahassee, Lawson was first elected to the Legislature back in 1982 and served in both chambers until 2010 when he faced term limits in the Senate. In his final two years, Lawson led Democrats in the upper chamber.
Lawson turned his eyes to Congress and challenged sitting Congressman Allen Boyd in the Democratic primary back in 2010. Boyd edged Lawson in the primary but went on to lose in November to Republican Steve Southerland. Lawson tried again two years later and won the nomination but Southerland beat him by 6 percent.
Despite making noise in 2014 that he would try for a rematch with Southerland, Lawson sat the race out only to see fellow Democrat Gwen Graham beat the Republican. In 2016, Lawson challenged scandal-plagued Congresswoman Corrine Brown in the Democratic primary and, after she was indicted on corruption charges, defeated her 48 percent to 39 percent.
Lawson did not have long to sit on his laurels since he immediately faced a challenge in last year's Democratic primary by former Jacksonville Mayor Alvin Brown. When the smoke cleared, Lawson held off the challenge by an impressive margin, winning 60 percent to 40 percent.
While Democrats in Jacksonville will often ponder a primary challenge, Lawson is in good shape heading into the 2020 elections. Both Corrine and Alvin Brown had deep roots in Jacksonville but Lawson bested them. Republicans only make up 23 percent of the district while 58 percent of voters here are Democrats, meaning Lawson isn't worried about whoever the GOP sends his way. He had no problem crushing Republicans Glo Smith and Virginia Fuller the last two general elections.
Lawson has already drawn two opponents for 2020 and neither appears to be much of a threat at this point in time. Dr. Albert Chester, a pharmacist and business owner, is the latest Jacksonville Democrat to take Lawson on in the primary but he is nowhere near as known as either of the Browns were. Chester has deep roots on the First Coast and some impressive credentials but he has an uphill battle ahead of him. Businessman Matthew Lusk is running for the Republican nomination but appears headed for the same fate as Smith and Fuller.
In the meantime, Lawson has a chance to continue to work the district which is no small thing. The district stretches out across North Florida, from Jacksonville to the Big Bend, bringing in parts of Tallahassee. It includes all of Baker, Gadsden, Hamilton and Madison Counties and parts of Columbia, Duval, Jefferson and Leon Counties. Lawson has clearly nailed down the western part of the district which helped him win the last two primaries.
It's been a rocky road for Lawson, who turns 71 in September, to get to Congress but, so far, 2020 is shaping up to be a far easier assignment than he had in 2010, 2012, 2016 or 2020.
Kevin Derby wrote this analysis. He can be reached at kevin.derby@floridadaily.com.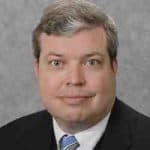 Latest posts by Kevin Derby
(see all)