U.S. Rep. Al Lawson, D-Fla., announced this week that the U.S. Department of Transportation is sending the Jacksonville Transit Authority (JTA) $2,430,716 in federal stimulus funds.
The Federal Transit Administration is sending the funds for the First Coast Flyer Southwest Corridor Bus Rapid Transit (BRT) project as part of the Capital Investment Grant (CIG) Small Starts projects under the $1.9 trillion federal stimulus passed on a party-lines vote at the end of March.
"Many of our nation's public transportation systems are facing financial hardship as a result of this pandemic," Lawson said. "These federal funds will help Jacksonville's First Coast Flyer with construction jobs and keep the project moving forward."
"The grant is part of the Department's $250 million allocations to help communities across the country protect the jobs of workers involved in constructing transit projects, ensuring the continued advancement of critical pieces of infrastructure. Twenty-two transit projects across 13 states will receive these funds," the congressman's office noted.
" The First Coast Flyer Southwest Corridor BRT project is a 12.9-mile BRT line from the Convention Center in downtown Jacksonville, via Florida State College-Jacksonville (Kent Campus), to the Orange Park Mall in Clay County," Lawson's office added.
First elected to Congress in 2016 after decades in the state Legislature, including leading Democrats in the Florida Senate, Lawson represents parts of North Florida with his district stretching from Jacksonville to Gadsden County.
While he will be impacted by redistricting before 2022, Lawson currently represents a district that is secure for the Democrats. He easily defeated Republican Gary Adler in November, taking 65 percent of the vote.
Reach Kevin Derby at
kevin.derby@floridadaily.com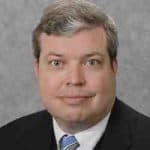 Latest posts by KEVIN DERBY
(see all)