From his seat on the Congressional Task Force on Alzheimer's Disease, U.S. Rep. Al Lawson, D-Fla., helped secure almost $400,000 from the National Institute on Aging for Florida A&M University (FAMU) to study the impact of the disease.
Lawson announced the funds on Wednesday.
"The grant will allow researchers the opportunity to study the early differences of Lewy Body Dementia (LBD) from Alzheimer's disease by using imaging biomarkers. LBD is a disease associated with abnormal deposits of a protein in the brain can lead to problems with thinking, movement, behavior and mood," Lawson's office noted. "Currently there are no explicit biomarkers used to track the progression and treatment of Lewy Body Dementia and Alzheimer's disease. Further, the similarities in symptoms of Alzheimer's disease and LBD make it difficult to differentiate between the two diseases."
"I am proud of the life-saving work that Florida A&M University is doing to identify Lewy Body Dementia and Alzheimer's disease in their early stages," Lawson said. "The use of imaging machines to identify key biomarkers can lead to further information of the differences between LBD and Alzheimer's and allow physicians to provide better care for their patients."
A longtime leader in Tallahassee, Lawson was first elected to the Legislature back in 1982 and served in both chambers until 2010 when he faced term limits in the Senate. In his final two years, Lawson led Democrats in the upper chamber.
Lawson turned his eyes to Congress and challenged sitting U.S. Rep Allen Boyd, D-Fla. in the Democratic primary back in 2010. Boyd edged Lawson in the primary but went on to lose in November to Republican Steve Southerland. Lawson tried again two years later and won the nomination but Southerland beat him by 6 percent.
Despite making noise in 2014 that he would try for a rematch with Southerland, Lawson sat the race out only to see fellow Democrat Gwen Graham beat the Republican. In 2016, Lawson challenged scandal-plagued U.S. Rep. Corrine Brown, D-Fla., in the Democratic primary and, after she was indicted on corruption charges, defeated her 48 percent to 39 percent.
Lawson did not have long to sit on his laurels since he immediately faced a challenge in the 2018 Democratic primary by former Jacksonville Mayor Alvin Brown. When the smoke cleared, Lawson held off the challenge by an impressive margin, winning 60 percent to 40 percent.
Sitting in what is regarded as a secure district for Democrats, Lawson's district stretches from Jacksonville through North Florida to Tallahassee and Gadsden County.
Reach Kevin Derby at kevin.derby@floridadaily.com.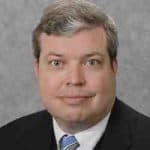 Latest posts by Kevin Derby
(see all)