A Florida congressman is urging congressional leaders to ensure they help volunteer fire departments in the next coronavirus stimulus package.
U.S. Rep. Al Lawson D-Fla., sent a letter to U.S. House Speaker Nancy Pelosi, D-Calif., U.S. Senate Majority Leader Mitch McConnell, R-Ky., U.S. House Minority Leader Kevin McCarthy, R-Calif., and U.S. Senate Minority Leader Chuck Schumer, D-NY,  to "express his concerns about the waiver in the House-passed Heroes Act that would eliminate the requirement that FEMA allocate 25 percent of Assistance to Firefighters Grant (AFG) awards to voluntary fire departments" and ask that waivers not be included in any future stimulus legislation.
"Volunteer fire departments have been hit hard by the impact of COVID-19 and are experiencing higher-than-normal staffing losses because volunteers are concerned for their personal health and that of their families," Lawson wrote. "I believe that waving these protections would put our volunteer and small departments in Gadsden, Jefferson, Madison, Hamilton, Baker and Columbia Counties at a disadvantage when applying for emergency AFG funding because they would now be competing for grants against larger departments such as New York City and Miami-Dade."
"AFG funding is awarded to fire departments and non-affiliated EMS organizations based on a competitive grant process. According to the National Volunteer Fire Council, 44 percent of respondents reported that staff was unwilling or unable to volunteer. In addition, many emergency services are having difficulties obtaining necessary personal protective equipment (PPE) including masks, face shields/goggles, gowns and gloves. Without the ability to equitably access AFG funding these shortages will only increase putting volunteer and small fire departments at even more of a disadvantage when serving their communities during the COVID-19 pandemic," Lawson's office noted.
More than a dozen other members of the U.S. House including U.S. Reps. Alcee Hastings, D-Fla., Carolyn Maloney, D-NY, and Peter King, R-NY, also signed the letter.
Reach Kevin Derby at kevin.derby@floridadaily.com.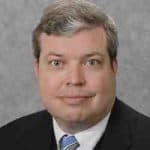 Latest posts by Kevin Derby
(see all)