 On Wednesday, Gov. Ron DeSantis announced that SoFi Lending Corporation and SS&C Technologies will add almost 500 jobs to the First Coast.
Speaking at the Enterprise Florida Board of Directors quarterly meeting in Jacksonville, DeSantis said the Sunshine State will continue to lure more financial service jobs from other states.
"It is my privilege to announce that SoFi and SS&C Technologies, two San Francisco-based firms, will be creating almost 500 jobs for Duval County," said DeSantis. "Jacksonville has become a hub for the financial services industry and, today, I had the pleasure to meet with EFI's Board of Directors to discuss how we can continue to ensure Florida is top of mind when these businesses are looking to relocate. My administration continues to make it a priority to recruit businesses in the financial, technology and banking sectors."
"As SoFi grows, we knew we needed to expand our real estate footprint to maintain our top-tier level of support for all of our members across the country," said Anthony Noto, the CEO of SoFi. "Jacksonville, from the start of our exploration, has been a clear front runner for talent, accessibility, and offering an affordable cost of living. We're thrilled to expand our SoFi family to Florida."
"We're thrilled to continue building our team and supporting commerce in Jacksonville," said Steve Leivent, the senior vice president of SS&C Technologies. "This office is a key location for us for sourcing knowledgeable talent and providing strong local support,"
"Thank you to Governor DeSantis, the EFI Board and statewide partners for joining us this week in Jacksonville," said Florida Secretary of Commerce Jamal Sowell, the president and CEO of Enterprise Florida, Inc. "Today's announcements are proof of Florida's financial services growth. I will continue to work with the governor to market Florida's attractive tax structure and skilled workforce so that Florida maintains its reputation as a global player in the financial service sector."
DeSantis also presented the EFI Entrepreneur and Job Growth Award to John Wood, the chairman and CEO of Sally Corporation which makes rides and animatronics for amusement parks and museums. The corporation is based out of Jacksonville.
"I am very honored to be the recipient of Enterprise Florida's Entrepreneur and Job Growth Award for the year," said Wood. "With Enterprise Florida's assistance, we have been able to promote our unique products and services to potential Asian, European and Middle Eastern prospects which have yielded substantial results over the past few years. We look forward to generating more jobs and revenue through these foreign contacts in the future."
Reach Kevin Derby at kevin.derby@floridadaily.com.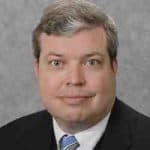 Latest posts by Kevin Derby
(see all)