Conservative businesswoman Amy Pope Wells has launched a bid for the congressional seat currently held by U.S. Rep. Ted Yoho, R-Fla.
Wells, who is from Green Cove Springs, launched her bid for the Republican nomination on Monday.
"I am extremely excited about and humbled by the task ahead of me. I look forward to meeting the voters of District 3 and sharing my conservative vision to address our country's acute challenges," said Wells. "The skyrocketing cost of health care, the crisis at our southern border and the opioid epidemic are immediate problems that need comprehensive solutions."
Wells has ties to the White House, being named to a group helping the United States-Canada Council for the Advancement of Women Entrepreneurs and Business Leaders. According to the new candidate's campaign "in this role, she met with the President, the Vice President, Ivanka Trump and Small Business Administrator Linda McMahon to further opportunities for women business owners and operators."
As she kicked off her campaign, Wells stressed her support of President Donald Trump.
"I am an anti-politician who will bring a fresh perspective, new ideas and a principled approach with me as I seek to represent District 3," said Wells. "I will stand with President Trump as he engages on these important issues and many others to the benefit of the American people and the residents of District 3."
Wells and her husband Craig own Link Staffing and PayDay HR Solutions. In addition to her career in the private sector, she has also served as the chairwoman of the Clay County Chamber of Commerce and chaired the Clay County Sheriff's Office Quality Task Force. Back in 2017, then Gov. Rick Scott named her to the board of the Clay County Development Authority. Last year, Wells cochaired the Women's Coalition in support of Ron DeSantis' gubernatorial campaign.
Yoho's district brings in parts of North Central and Northeast Florida including Clay County and parts of Gainesville. When he first ran for Congress in 2012, Yoho promised to serve only four terms and not seek a fifth term in 2020.
Kevin Derby can be reached at Kevin.Derby@floridadaily.com.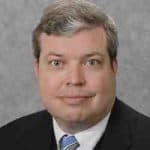 Latest posts by Kevin Derby
(see all)