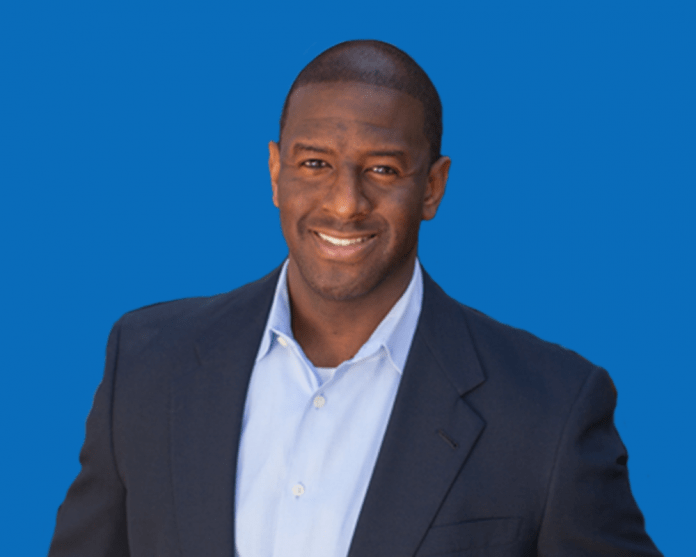 The Florida Democratic Party (FDP) is going all out to get people that have voted in the past–but not recently–to get back to the polls to help the party win.
The Florida Democrats are turning to former Tallahassee Mayor Andrew Gillum, who lost a close gubernatorial race to Republican Ron DeSantis last year, to help them woo back voters.
On a call with the media on Thursday, Gillum said that he and the Florida Democrats are "building a state designed to produce a Democratic win." Still, he admitted that engaging Floridians who don't always show up to vote is a risky strategy.
"New voters, they don't have a history of voting and so you are taking a bit of a risk when you put resources into going after voters, but they are no different than any other constituency," Gillum said.
The party and Gillum are targeting registered Democrats who have not voted recently.
"We are talking about voters who may have skipped the last presidential cycle who we want to make sure get reintroduced back into the voting process," Gillum said. "We know just based off of the success of the vote by mail program that was run by the FDP last year that this is a sure fire way to bring people back into the process."
"We start with the notion that they care," Gillum said but this could be a big mistake since the targeted voters did not make it to the polls at least one time in the past three years.
Gillum admitted this is "very laborious" works but thinks, if he can get to them now, he can carry them to the polls by having them vote by mail.
"Our intention is to get out there, get into the faces of these individuals, not just physically, but in an online presence, major digital ads in the spaces where they are to help make voting much more relevant," Gillum said.
He also said he and his team intend to follow through with these voters all the way to November by tracking the ballot to make sure the voters are actually returning it. Gillum insisted this strategy could pay off in the long run.
"By re-engaging voters who have fallen out of the democratic process, we believe we are building real and lasting infrastructure in the state of Florida," he said.
FDP Chairwoman Terrie Rizzo weighed in on what her party has done to attract minority voters, including registration drives, radio shows that target African-American and Hispanic voters and more. Still, she conceded there is more work to be done.
"That is not enough. We need to ensure black and brown Floridians have the tools they need to vote," she said.
The Florida Democrats will get $450,000 from Gillum through funds he will raise and from his existing political committees. Gillum said Democrats will start in swing districts and areas they need to protect while insisting there will be a large push in predominantly GOP counties to try and cut the margin of victory in those areas for Republicans.
Gillum said outreach is just as important in politics as having a strong candidate and a winning message.
"My belief in organizing is that if you don't talk to people, don't engage them, it is extremely difficult to get them to then turn right back around and turn out and vote, almost regardless of who the candidate is," he said.
Reach Mike Synan at mike.synan@floridadaily.com.
Latest posts by MIKE SYNAN
(see all)