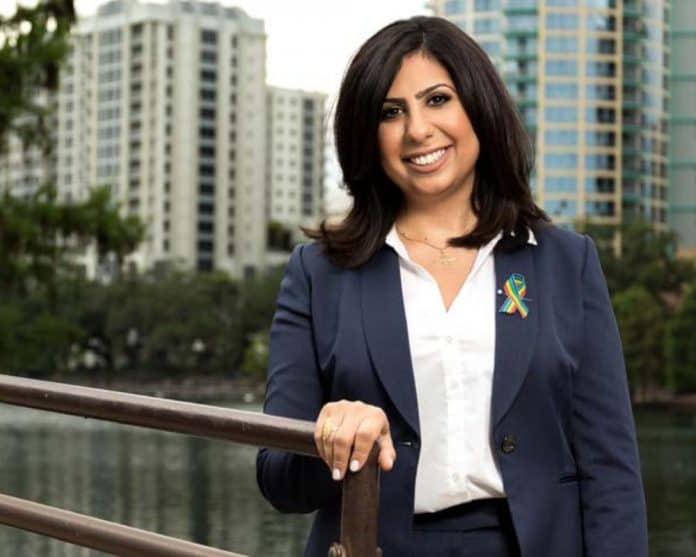 State Rep. Anna Eskamani, D-Orlando, is taking up the cause of a man who was removed from death row and had his conviction overturned.
Clemente Aguirre lived next door to murder victims Carol Bareis and her 47-year-old daughter Cheryl Williams in Altamonte Springs back in 2004.
I'll never forget that day because I was a reporter on the scene and saw Aguirre, the kid they called "Shorty," riding his bicycle up and down the street with the police cordoning off the scene and reporters filling the area. He did an interview that day with a Spanish language station but did not know enough English to speak with the rest of the gathered media. He also told police that he had been to the home because he ran out of beer and wanted to see if they had any. The family left the door unlocked and it wasn't unusual for Aguirre and his roommate to hang out there.
Eight days later, Aguirre was indicted on first-degree murder charges. Detectives found his shoe prints all over the house and his clothes had the blood of the victims on it. A knife was found between the two residences–and a knife was reported missing from the kitchen where Shorty worked.
Aguirre always denied that he was involved in the crime. He simply did not report the bodies when he originally saw then because he was in the United States illegally and did not want to be deported. Aguirre was tried and convicted of first-degree murder and sentenced to death row by a 7-5 vote of the jury on the murder of Williams and a 9-3 vote on the murder of Bareis.
Years later, during an appeal, DNA testing of 80 pieces of evidence turned up no matches with Aguirre. In the interim, Cheryl Williams' daughter Samantha twice told people that she had killed both her mother and grandmother. In 2016, the Florida Supreme Court ordered a new trial for Aguirre. When that trial was about to begin in 2018, a key witness changed his testimony. The then-boyfriend of Samantha Williams could no longer testify that he was with her all night. The state abruptly dropped all charges against Aguirre after he spent 12 years on death row.
Eskamani said Aguirre should be compensated for the dozen years he spent on death row for a crime that to this day remains unsolved.
"This session the Florida Legislature has an important opportunity to repair the past, and grant Clemente Aguirre a second chance in life," said Eskamani. "We are proud to file this claims bill alongside Senator Victor Torres and to help Aguirre achieve compensation for his wrongful incarceration."
Aguirre steadfastly has maintained his innocence and was only freed thanks to the hard work over the years of the Innocence Project. That group took up his case in 2011 and helped get the DNA testing that cleared him.
Attorney Joshua Dubin was elated justice could come for Aguirre.
"This is another step toward justice and closure for Clemente Aguirre. This special claims bill is a way to provide Clemente Aguirre with the means with which to rebuild his life after having lost 14 precious years," Dubin said.
The bill would give Aguirre $720,000 in compensation for his time on death row. State Sen. Victor Torres, D-Orlando, filed the companion bill.
Florida Daily reached out Eskamani to ask her how Aguirre's immigration status would factor into how her claims bill would play in the Legislature.
"Because Clemente witnessed a crime he should have been able to apply for a U-Visa, granting him protection while working with law enforcement on the case. His legal team is now applying for asylum, to protect his ability to stay in the United States. Whatever his status, he deserves compensation because he was wrongfully incarcerated for over a decade, for a crime he did not commit," she told Florida Daily.
Aguirre has also filed a lawsuit in federal court against the Seminole County Sheriffs Office for malicious prosecution. He is fighting to remain in the United States as opposed to being deported to his native Honduras.
Reach Mike Synan at mike.synan@floridadaily.com.
Latest posts by MIKE SYNAN
(see all)