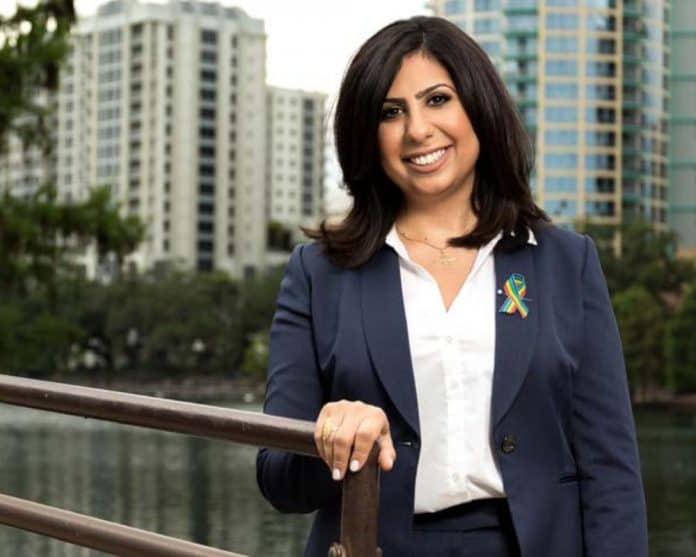 State Rep. Anna Eskamani, D–Orlando. is making it clear she is no fan of large corporations as the legislative session gets underway in Tallahassee.
The firebrand legislator is in her second term representing much of central Orlando and she plans to push bills that will limit funds corporations can get from taxpayers.
Eskamani wants to start with a bill that would stop the state from raiding other states for jobs by dangling economic incentives for a company to move to Florida.
"Ending this 'beggar-thy-neighbor' approach to economic development will not only help us better respond to the healthcare and economic crisis we face right now, but it will also establish a fairer and more stable economy for the future," Eskamani said.
This bill is also being pushed in other states, particularly ones like New York and Illinois that often end up on the wrong side of these corporate moves.
"Oftentimes when we attract this new business, it doesn't mean they are hiring from Orlando or from Central Florida," Eskamani told Florida Daily, pointing out that these moves do not always result in more jobs for local residents. "They could be transplanting people from other states to come here. Of course, we are always happy to have more new Floridians, but that wasn't a job creator for people here in Florida."
Eskamani is also championing a proposal to end corporate subsidies and giveaways.
"Corporate giveaways, which often go to the corporations that make the biggest campaign contributions or employ the most expensive roster of lobbyists, are expensive, inefficient and ineffective even in good times," Eskamani said. "But they are absolutely destructive and utterly indefensible during the COVID-19 pandemic when working Floridians and small businesses are desperate for help and our state government faces a multibillion-dollar budget shortfall even as demand for social services soars."
Eskamani understands the opposition from her fellow legislators.
"When you are running for office every two years, I think there is this pressure, at least in Florida, where if I challenge a corporation, they are not going to cut me a check next year and it is going to hurt my opportunity to continue to be in this position of power," Eskamani said, noting that conservatives often support this policy in much larger numbers than Republican legislators do.
Eskamani is also backing a proposal ensuring that all benefits or tax packages specifically drawn up for any entity have to be made public, not hidden in a secrecy clause until the bill is passed by the state or by an ordinance from local government.
"The only one who benefits when an incentive package is negotiated in secret is the big business that is trying to play states, counties, and cities against each other and win the most lopsided deal it can," Eskamani said. "Transparency is the cornerstone of good government – especially when we're talking about giving away Floridians' hard-earned dollars. If Amazon or anyone else thinks they deserve public money, they can make their case to the public in the sunshine."
Eskamani believes that legislators, particularly on the Republican side are experiencing a "fear of the unknown" that keeps them from standing up to corporate interests. She said she hopes that she can get some Republicans behind her proposal by stressing how conservative it is to not hand out tax dollars.
Reach Mike Synan at mike.synan@floridadaily.com.
Latest posts by MIKE SYNAN
(see all)