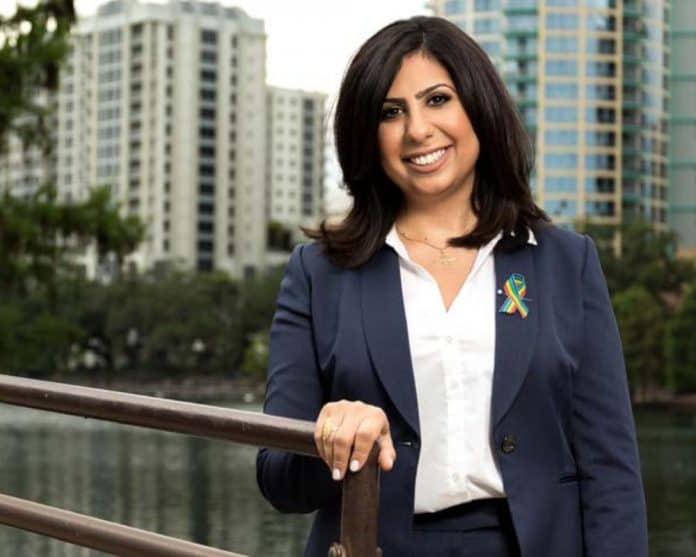 Anna Eskamani just won reelection to the Florida House but the Orlando Democrat is already thinking ahead to the next election–and what her party can do differently after a series of stinging defeats in the Sunshine State.
Eskamani's answer is to target leadership in the Florida Democratic Party and replace it.
"Your voice matters. For far too long decisions about the Democratic party have been made behind closed doors, made among only the consulting class and other political elites," she said.
Eskamani is a firebrand liberal and there is already a movement to draft her for the governor's race in 2022. While Eskamani is not ready to discuss that just yet, she is ready to move her party to the left as a response to what went wrong. Her first targets include corporations and her own party.
"It's a fact that, even within the Democratic Party, there are folks that are very comfortable with the influence of corporations. There are folks that are very comfortable with the exploitation of workers.  There are folks that take money from private prisons," she noted.
Eskamani is even ready and willing to call out some of the state's biggest employers and job creators by name.
"Most voters, it is so wonky and complicated, they don't understand that some of the most beloved companies like Walt Disney World, Publix, even companies you might not like so much like cable companies or telecommunication companies, developers, private prisons. These are all companies that are very invested in political campaigning. They have an agenda in the legislative process, and they campaign to keep poor people poor. Let's be real about it. They spend money to maintain the status quo so poor people stay poor and don't vote," she said.
Eskamani believes what went wrong on Election Day for her party was it did not run enough progressives for office as the Florida Democrats lost two congressional seats and five state House seats.
State Rep. Michelle Raynor-Goolsby, D – St. Petersburg, did win a seat, and she's also harping on the "party elite," telling Florida Daily that the Florida Democrats "didn't trust black women." She noted that she was "very clear and very purposeful" to have a black woman as a consultant.
Many of the disparate groups represented in a zoom call by Eskamani say the Democratic Party is taking them for granted, including groups like Haitians, working-class voters and the LBGT community.
Jacksonville area activist Jasmine Brown wants the party to go full left and called for Democrats to not be afraid of Republican attacks on socialism and defunding the police.
"We have mobilized millions of people across this globe under the banner of defunding the police. It is possible to say that message and mean it, and still get our people to our side," Brown said.
Eskamani wholeheartedly agreed with that as she took aim at Republicans and their message.
"It's even harder to combat with the machine that the Republican Party has where they will lie and cheat with no consequences, creating different challenges for us," Eskamani said.
Eskamani said the PPP loan obtained by the Florida Democratic Party was a "major debacle" and admitted the GOP invested a lot more time and effort into the Latino vote than her party did.
As for the future, Eskamani said Democrats need a new game plan in Florida.
"I think it takes a rainbow coalition to win this state, which by the way does include white folks," Eskamani said.
Whether or not that includes her taking a shot at the Governor's Mansion in 2022 remains to be seen.
Reach Mike Synan at mike.synan@floridadaily.com.
Latest posts by MIKE SYNAN
(see all)