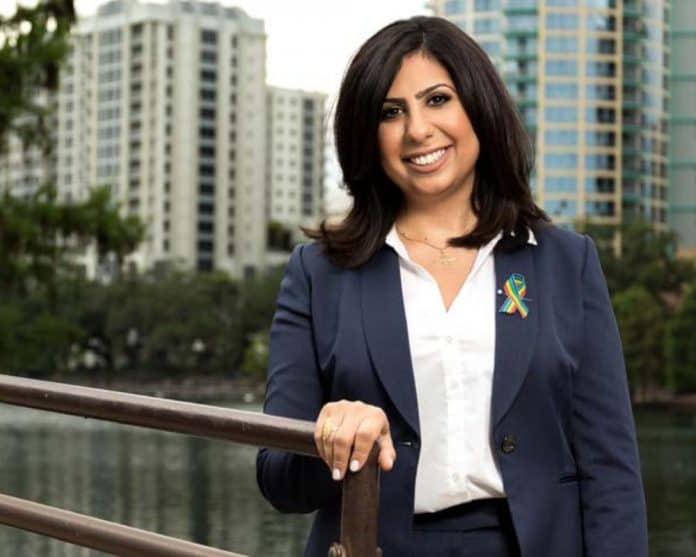 With Central Florida taking more economic damage than any other part of Florida, state Rep. Anna Eskamani, D–Orlando, is calling on Gov. Ron  DeSantis to step up to help through executive action.
Eskamani sent a letter to the governor asking him to take steps to mitigate the effect of COVID-19 on the economy. Specifically, she asked him to waive work search requirements for the people currently on unemployment, something the governor has already done the past two months.
"Knowing that the tourism industry continues to face horrifying unemployment numbers means that we have to make sure that for those who need benefits to survive, they don't have to jump through hoops to get it," she insisted.
Eskamani told Florida Daily that a bartender can't look for a new bartending job because those businesses are not even allowed to open. She also wants to cover tens of thousands of furloughed hospitality workers to be able to return and keep their current jobs.
"We do have folks that are furloughed, so they already have a job.  They don't need to search for a new job. They are just waiting for their job to be available again," she said.
Eskamani also wants DeSantis to extend higher unemployment benefits, up to $600 a week. Florida currently offers $275 a week currently now that extra federal benefits under the CARES Act have run out.
"We are forcing Floridians to survive off $275 a week if even that. It is just impossible to pay your bills and put on food on the table and be able to survive with that type of weekly amount," she said.
DeSantis has been looking at two potential ways to increase benefits, including matching the latest round of federal unemployment through the executive order signed by President Donald Trump that would provide $300 a week in federal money if the state government provides $100.
On Wednesday, DeSantis took a step in that direction, announcing that the Florida Department of Economic Opportunity (DEO) will apply for the federal Lost Wages Assistance (LWA) Program.
"This program, authorized by a memorandum from President Trump, provides additional temporary benefits for individuals who are eligible for Reemployment Assistance for weeks of unemployment ending on or after Aug. 1, 2020," the governor's office noted.
"On behalf of Floridians who are continuing to face challenges finding employment, I would like to thank President Trump for providing additional funding while they get back on their feet," said  DeSantis."We appreciate the opportunity to provide this temporary assistance through the Lost Wages Assistance program."
Florida Daily asked if that was good enough for Eskamani. "Candidly, I am open to any ideas at this point, but we need answers," she replied.
DeSantis is also looking into whether or not he can use federal loan dollars to supplement unemployment payments.
In the meantime, Eskamani is pushing for relief for small businesses. She wants a new package to increase state funds to keep them afloat including taxpayer dollars going to bars.
"When government tells a business that you can't be open because it puts the public at risk, we can all respect and understand that in the midst of a pandemic," she said. "But what I can't respect or understand is how you can do that without offering any sort of safety net to make sure a small business can still pay its bills on time."
The state already allocated $50 million to small businesses and those funds went to help out 1,000 businesses across the state while being plagued by questionable applications.
Eskamani called for Tallahassee to do more, "specifically additional dollars to go toward direct cash assistance or low-interest loans, but we need relief." She called it "shameful" that 37,000 businesses applied for, but did not receive, funds in the first round of assistance from the state government.
"As we continue to go through this pandemic, we are going to see more and more small businesses permanently close, and we are already seeing it happen," she said.
Eskamani said she thinks the state government should delay the due dates for business and alcohol licenses. Across the state, bar owners were surprised this week to receive invoices for $1,800 per license for renewal for the upcoming year.
"It makes no sense that Hard Rock and Hard Rock Stadium will be open while our bars are closed," Eskamani said, claiming that Republicans care more about big businesses than small ones.
Eskamani also weighed in on mortgage foreclosures and evictions, urging the governor to extend the moratorium on evictions. Currently, Floridians behind on mortgages can try to appeal for relief if they can document the reasons why they are behind.
"It's providing some sense of relief if you can prove to the court that you have been adversely impacted by COVID-19," she said. "If the governor does not renew that language in his most recent executive order, we are not only going to see a flood of evictions, we are going to going to see folks unable to defend themselves in court."
Eskamani said she hopes DeSantis will extend that moratorium until the end of the year. DeSantis has offered relief to Floridians from evictions or foreclosures close to the end of the month deadlines. That is likely to happen again if the governor decides to extend the emergency order.
Still, Eskamani's other requests are unlikely to make headway. Cody McCloud, a spokesman in the Governor's Office, weighed in on her letter.
"We are in receipt of Rep. Eskamani's letter. Unfortunately, we have a fundamental disagreement about how to get Floridians back to work," McCloud said.
Reach Mike Synan at mike.synan@floridadaily.com.
Latest posts by MIKE SYNAN
(see all)