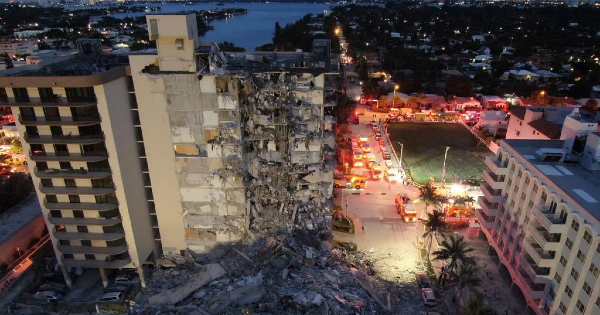 The Salvation Army building collapse in 2013 was among the worst in Philadelphia history. Six deaths and the eventual suicide of the building inspector were a part of this complex tragedy that resulted in criminal charges and civil litigation.
As a result of the collapse, the contractors were sentenced to prison. Griffin Campbell was sentenced to 15–30 years in prison and Sean Benschop was sentenced to 7 1/2-15 years in prison for the death of six people and injury to 14 others in the June 5, 2013, Market Street Salvation Army building collapse.
In June of this year, the Surfside building collapse in Florida was a similar tragedy involving a residential rather than commercial property. With 98 deaths and no way to get out once the collapse occurred, this was a stark reminder of the dangers of unsafe buildings.
These events always raise the question of what we can possibly do to prevent this kind of tragedy in our own lives. So I sat down with Joseph Marrone, one of the lawyers responsible for the settlement in the Salvation Army building collapse. In our interview, we discussed not only the details of what he was able to achieve for those people injured in Philadelphia, but also what people should look out for where they live.
Climate change and human error are big contributing factors in these building collapses. While it's obviously impossible to know when a building you're in is about to collapse, Marrone suggested several major areas in which we can actually do something to watch out for our safety.
Marrone suggests doing local research when it comes to choosing a place to live. By asking the right questions to the right people, including local government representatives, you can learn whether a building you're considering living in has structural issues or anything in its history that should be of concern to you.
The people involved with constructing, maintaining, and managing either a commercial or residential property are, as Marrone suggests, often the beginning and end point in determining whether a structure is safe. If your safety spidey-senses are tingling after interactions with them, that might be a very good sign to look elsewhere for a home or an office.
Are these people following the rules? How diligent are they being in maintaining these properties? What about the engineers and contractors? Do they have good reputations or is it easy to find substantive complaints about them that speak to cutting corners on safety?
Most importantly, Marrone suggests that when these building tragedies occur, it's fairly easy to trace them back and create a narrative as to why they happened. Renovation or repairs that are long overdue are often a cause of these building tragedies. Learning as much as you can now is critical to your safety in the long run.
The importance of getting that personal sense-check of the people involved in the property is something that can't be overemphasized. Marrone acknowledges that it's hard for someone who wants to buy a condominium, lease an apartment, or even stay in a hotel to learn a lot right away, so it's key to rely on local insiders who know the players and are often more than willing to share their views on the internet. In fact, the Internet is as good a place as any to begin your safety sleuthing – it often turns up surprisingly good results as to how diligent, or lack thereof, the people in charge have been with safety.
Aron Solomon, JD, is the chief legal analyst for Esquire Digital and the editor of Today's Esquire. He has taught entrepreneurship at McGill University and the University of Pennsylvania, and was elected to Fastcase 50, recognizing the top 50 legal innovators in the world. Aron has been featured in CBS News, TechCrunch, The Hill, BuzzFeed, Fortune, Venture Beat, The Independent, Yahoo!, ABA Journal, Law.com, The Boston Globe, and many other leading publications.
Latest posts by GUEST COLUMN
(see all)