 Two weeks to go until the primary, former U.S. Rep. Gwen Graham, D-Fla., the favorite to win the Democratic gubernatorial primary, reinforced her position as the frontrunner as one of the most prominent African-Americans in Florida politics endorsed her.
Former state Senate Democratic Leader Arthenia Joyner, who was arrested for her role in calling for movie theaters to be desegregated during the civil rights era, endorsed Graham on Tuesday.
"For too long, too many Floridians have been left behind by their governor and the politicians in Tallahassee. Our communities have been forgotten, our voting rights have been attacked and our civil rights weakened," Joyner said. "Enough is enough. In 2018, we are going to reverse the trend and elect a Democrat who will fight for all Floridians — and that governor will be Gwen Graham.
"In Congress, Gwen cosponsored legislation to restore the Voting Rights Act. She has been a leading supporter of Amendment 4 to restore voting rights to returning citizens, and she has proposed comprehensive plans to expand voting rights and reform Florida's criminal justice system," Joyner added.
"As a woman, Gwen understands the issues we face because she has lived them — but more than that, on Workdays and at roundtables, she has taken the time to get to know Floridians from all walks of life, to understand their challenges and present innovative solutions to help them," Joyner continued. "Gwen will work with leaders from every community to restore our public schools, protect our environment and expand health care."
"Senator Arthenia Joyner is a living legend and trailblazer. She has dedicated her life to fighting for Florida families — and it is an honor to have her support," Graham said. "As governor, I will work hand in hand with Senator Joyner to expand voting rights, invest more in every public school, ban oil drilling off our beaches, and finally expand health care for almost one million Floridians. Together, we will bring decency, respect and progress back to our state's capital."
Polls show Graham with a solid lead over her Democratic primary rivals as former Miami Beach Mayor Philip Levine and billionaire Jeff Greene battle for second. Tallahassee Mayor Andrew Gillum and businessman Chris King lag behind the top three candidates. The primary will be held on August 28.
Kevin Derby can be reached at Kevin.Derby@floridadaily.com.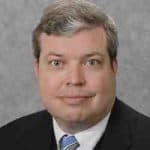 Latest posts by Kevin Derby
(see all)