Former Judge Ashley Moody is Florida's next attorney general as the Republican took 53 percent while state Rep. Sean Shaw, D-Tampa, pulled 46 percent.
Moody replaces fellow Tampa Republican Pam Bondi who faced term limits after eight years in Tallahassee. Bondi helped Moody secure the Republican nomination back in August's primary.
"It has been a long journey, one not possible without efforts of so many people to whom I will be eternally grateful," Moody said after Shaw conceded. "I will remember every day in office that the voters have trusted me with a great power and, with it, comes great responsibility. I will always remember it is not about me, it is about you and ensuring at the end of the day, I defend the rights that guaranteed that you are in charge.
"I will work hard every day to deserve this honor, to protect Floridians, and demonstrate an unwavering commitment to what sets us apart from others, our belief in and adherence to justice under a rule of law," Moody continued.  "I'm honored that so many others from the law enforcement community helped us along the way and I will always be grateful to the nearly 90 percent of sheriffs, Republican, Democrat and Independent and the law enforcement organizations that stood with me throughout this journey."
Kevin Derby can be reached at Kevin.Derby@floridadaily.com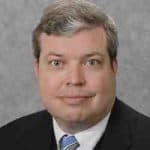 Latest posts by Kevin Derby
(see all)