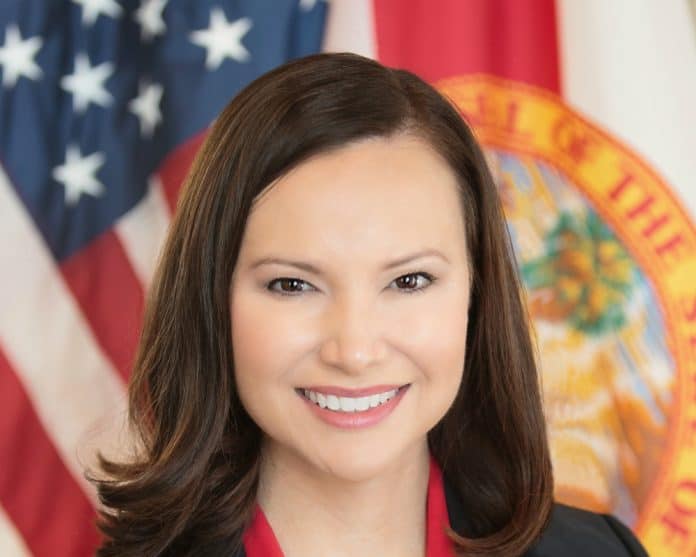 With the National Football League (NFL) bringing the Pro Bowl and Super Bowl LIV to Florida in back to back weeks in the Sunshine State, Attorney General Ashley Moody has a simple message for human traffickers. "We are ready and we dare them to come here," she said.
Moody held a press conference in Orlando this week, flanked by the sheriffs of Orange, Seminole and Osceola counties and the chief of the Orlando Police Department.
"As a mother, a former prosecutor and judge, I can't imagine what kind of evil person has to be involved in trafficking children, women and others for money," Moody said, noting 160 people were arrested for human trafficking at last year's Super Bowl in Atlanta.
Moody said Florida is about to see increased human trafficking. The key to cracking down on it will be enlisting the public's help.  In particular, law enforcement has been working with truckers. Moody said that interstate highways are the main arteries to bring victims into the state.
Law enforcement is reaching out to other groups as well.
"We have partnered with Uber to train their drivers to be able to spot the signs of human trafficking because we have seen success stories where Uber drivers heard conversation, later reported it to law enforcement and victims were saved," Moody said.
Orange County Sheriff John Mina said hotels are playing a key role as well. In his county, the I-Drive Chamber of Commerce and the Central Florida Hotel and Lodging Association provide training to all hotel workers to try and spot traffickers and victims. So far, 500 tips have been received thanks to this training with 136 victims recovered over the past two years in Orange County.  It's not just desk clerks that can help, law enforcement officials noted, insisting all hotel employees, from maids to the people that work the breakfast buffets.
Moody also said there are signs the public at large can look for as well.
"Brandishing marks, specific tattoos, whether someone is disoriented and being led by another person.  Whether they are hesitant to talk without permission from another person. These are all signs that people can look for to determine whether or not someone is being trafficked," Moody said.
Moody said individuals displaying fear, anxiousness, paranoia or a reluctance to discuss injuries are other signs which indicate that someone is a victim of human trafficking. With Florida third in the nation in calls to the human trafficking hotline, there is also a large focus on the victims and how to get them to come forward.
Seminole County Sheriff Dennis Lemma emphasized that if a person is being trafficked, they should have no fear of potential penalties from law enforcement for coming forward.
"There's hope. There's trust. There's love, and there's people who are willing to step in and give you a hand if you are willing to call," Lemma said.
Expect fight against the sex trade and human trafficking to continue after the Pro Bowl and Super Bowl.
"By no means is this limited to football," Moody said after being asked by Florida Daily about future efforts. "Florida will also host WrestleMania in a few months and we are doing everything we can to prepare for that event just as we are for the Pro Bowl and Super Bowl."
Members of the Florida delegation on Capitol Hill have also warned about increased human trafficking due to the Super Bowl.
Reach Mike Synan at mike.synan@floridadaily.com.
Latest posts by MIKE SYNAN
(see all)