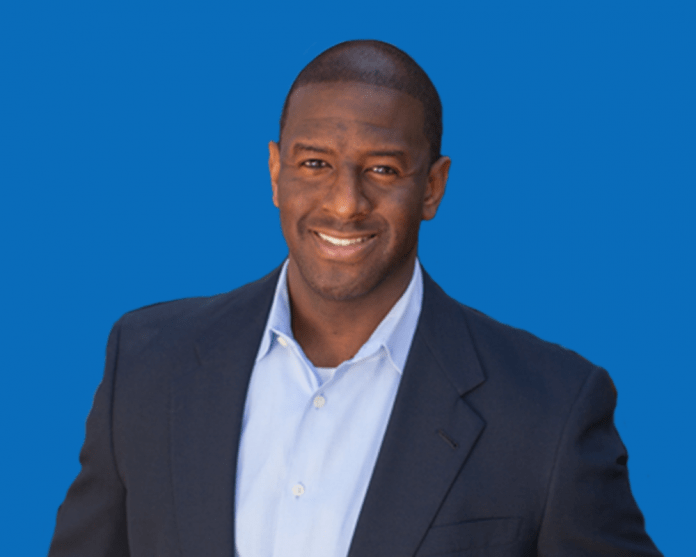 Tallahassee Mayor Andrew Gillum showed off his biggest endorsement in the race to be the Democratic nominee for governor, bringing U.S. Sen. Bernie Sanders, I-Vt. to the University of Cental Florida to rev up crowds as early voting continues in the Sunshine State.
The crowd was not huge as an estimated 400 showed up to hear Gillum and Sanders speak but enthusiasm was high. Several high profile Democrats spoke to the crowd, which was divided almost evenly between students and other supporters, including Orlando Commissioner Regina Hill, Orange County Commissioner Emily Bonilla and state Rep. Carlos Guillermo Smith, D-Winter Park, fresh out of the hospital after having surgery for appendicitis.
State Attorney Aramis Ayala was greeted with huge cheers and she told this crowd exactly what they wanted to hear.
"For us to have progressive things, we must put progressive candidates forward," she said.
Gillum took the stage to hip hop music, a clear indication of his status as a younger Democrat. He also made it clear he is the only non-millionaire running for the Democratic nomination for governor.
"I'm not intimidated by it because people vote, money doesn't. If you vote, we can win," he said.
The Tallahassee mayor got roars from the crowd when he called UCF the national champions, a reference to their undefeated football season last year, and when he talked about how important the youth vote would be to him in the Democratic primary.
"Some of my opponents believe you won't show up to vote," Gillum said. "I believe there will be a surge of voters across the state who say 'enough is enough.'"
Gillum called the algae blooms plaguing South Florida guacamole and blamed the problem on allowing companies to run roughshod over the state. He also rattled off a list of things that would be different once he became governor, including allowing felons to vote once they had served their sentences and returned to society. Gillum added felons should also be able to make a wage high enough to support themselves and their families once they were free.
The Tallahassee mayor called health-care a human right and said he supported lower prices for medicine. Gillum got a large round of applause when he said that Florida would never be a "show me your papers" state, a reference to the fight against illegal immigration and the tough stance Republicans running for governor have taken on the matter. As he wrapped up the litany of things progressives support, including a $15 per hour minimum wage and allowing women to make their own reproductive decisions, Gillum had kind words for Sanders.
"I'm glad to have Bernie Sanders here because Lord knows he can draw a crowd," Gillum said. "I'm honored to have his support because he's been fighting this progressive fight across the country for decades."
The loudest cheers of the day were saved for when Sanders took the stage and the former presidential candidate immediately tore into the existing conditions in the Sunshine State.
"I've only been in Florida for 16 hours, but I already know that this state needs a political revolution and you've got a candidate in Andrew Gillum who is going to lead that revolution," Sanders said.
The Vermont senator touched on many of the themes he embraced when he ran on for president, including free college tuition for all, citing New York University's Medical School for recently adopting that idea. Sanders also focused on health-care, specifically calling for Medicare for everyone in the United States, calling it "insane" that we have the highest drug prices in the world.
"We have got to end the international embarrassment of being the only country not to guarantee health-care as a right," Sanders said. "Insurance companies and drug companies are nervous about Andrew Gillum because he knows health-care is a right, not a privilege. It is insane to live in a country with 30 million people with no health insurance and many millions more who are underinsured."
While Donald Trump has been the main topic in the Republican gubernatorial primary, his name was hardly mentioned by Sanders. To a chorus of boos, Sanders painted Trump as someone who is trying to divide the nation on the basis of skin color, country of origin, and sexual orientation.
Gillum is running in a crowded Democratic primary with former U.S. Rep. Gwen Graham, D-Fla., businessmen Chris King and Jeff Greene, and former Miami Beach Mayor Phillip Levine. The primary will be held on August 28.
Reach Mike Synan at Mike.Synan@floridadaily.com.
Latest posts by MIKE SYNAN
(see all)