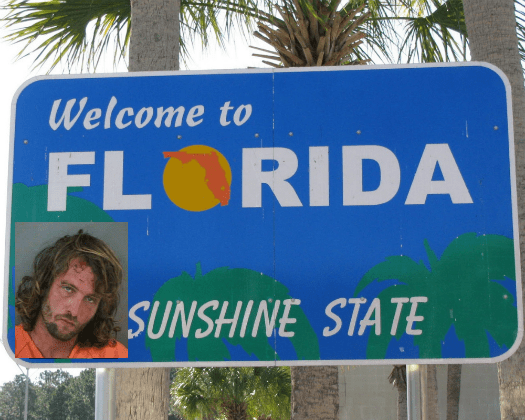 Below is a list of the best "Florida Man" headlines thus far for the month of April. All suspects are considered innocent until proven guilty in a court of law.
3. Florida Man charged with breach of peace after allegedly threatening to unleash "turtle army" on the public, disrupting a police station and cursing at 7-11 customers. Thomas Lane, 61 of Indialantic was charged with breach of peace and misusing 911, and resisting an officer without violence. According to Brevard County Sheriff's Office and News13, Lane was arrested after reports that he made multiple threats at various locations along the boardwalk of Indialantic, near Melbourne Beach allegedly calling himself "the Saint" and threatening people by saying "his turtle army will destroy them."
2. Florida Man charged with disorderly intoxication after allegedly shoveling spaghetti into his face and threatening employees 
According to reports from Collier County Sheriff's Office and NBC-2 of Southwest Florida, police were called to an Olive Garden at 1565 5th St. South, where Ben Padgett, 32, allegedly asked patrons for money as they approached the restaurant's main entrance and then threatened a restaurant employee who asked him to stop, saying "I could beat your ass."
When the employee went back inside to call the police, Padgett reportedly followed the employee inside then asked what kind of genitals he had. When police arrived on the scene, they reportedly found Padgett sitting on a bench near the front door, shirtless and shoving spaghetti into his mouth.
1. Days After Buying $8 Million Private Island, Florida Man Busted For Stealing $300 In Merch From Kmart
According to arrest logs from Monroe County Sheriff's Office and reports from the Key West Police Department and TheSmokingGun.com, Andrew Lippi, 59, was charged with felony grand theft rap for allegedly swiping coffeemakers, linen, and light bulbs from a Kmart in Key West. According to the police report, the loot allegedly stolen by Lippi had a total value of approximately $300, and the arrest came only a few days after FlKeysNews.com published an article about Lippi's recent purchase of a private island for $8 million.
Latest posts by News Desk
(see all)