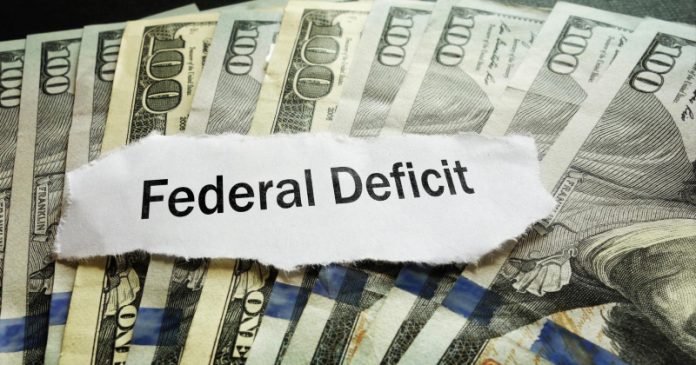 With recent polls showing that most voters don't approve of President Joe Biden's handling of the economy and inflation, the White House is going on defense heading into the 2022 election cycle.
The Biden team hopes to sell to voters on the federal deficit being projected to be $1.5 trillion lower than last year.
Biden has bragged that his economic measures, including $2 trillion in stimulus spending and more than $1 trillion in infrastructure spending, are the leading cause of the decline in the deficit.
But critics offer a very different explanation.
'He's not being honest," said Jonathan Williams, an economist with the American Legislative Exchange Council (ALEC).
Williams said the president is taking credit for something he had nothing to do with.
Williams explained that the drop in the deficit is because many of the COVID spending packages that occurred under former President Donald Trump are set to expire.
During the 2020 COVID shutdowns, the Trump administration spent more than $5 trillion to deal with the pandemic, including small business relief and household relief efforts.
Much of that money included unemployment benefits for millions of Americans which have now ended.
"Biden is trying to sell himself as a moderate and budget hawk, but with all of his current and proposed spending, he's nothing of the kind," said Steve Beaman, a financial commentator on talk radio.
Biden's critics also pointed to his stalled Build Back Better (BBB) spending plan. The Congressional Budget Office (CBO) estimated the BBB would cost anywhere from $3-5 trillion over the next several years.
Beaman and Williams both agree that another reason why the deficit is declining is that the president didn't get his BBB bill passed.
A recent story by Reason noted that while the deficit is likely to fall this year, it will still be larger than the deficit was in 2019, the last year before the pandemic.
"The president is trying to claim credit for falling deficits. Actually, his administration has overseen a $2.4 trillion increase in the long-term deficit. By the time inflation comes under control, the federal budget deficit will be ballooning once again," reported Eric Boehm for Reason.
Adding to the unease, the CBO noted that interest payments on the national debt will triple by 2032 and will climb to about $400 billion this year. Over the next decade, interest costs will exceed $8 trillion—comprising more than half the deficit and consuming all revenue outside of individual income and payroll taxes.