With two and a half weeks to go till Election Day, a new poll shows Florida is coming down to the wire.
Mason-Dixon released a poll of likely voters in Florida on Friday which shows the candidates within the margin of error as former Vice President Joe Biden stands at 48 percent and President Donald Trump right behind at 45 percent while 1 percent back other candidates and 6 percent remain undecided.
Both candidates have nailed down their party bases with Biden getting 87 percent of Democrats and Trump pulling 84 percent of Republicans. Biden has the edge with independents 49 percent to 43 percent.
Men go for Trump 51 percent to 41 percent while women prefer Biden 56 percent to 37 percent.
Trump leads among white voters 56 percent to 37 percent while Hispanics go for Biden 57 percent to 37 percent. Biden overwhelmingly leads with African-Americans 86 percent to 7 percent.
Biden is running away in Southeast Florida, traditionally friendly for Democrats, while Trump has nailed down traditional GOP strongholds like North Florida and Southwest Florida. Trump edges Biden 47 percent to 45 percent in Central Florida while the Democrat returns the favor in Tampa Bay where he leads 47 percent to 44 percent.
Asked how they view the candidates, 46 percent of those surveyed view Biden favorably while 40 percent see him as unfavorable and 14 percent are neutral on him. Trump is viewed unfavorably by 50 percent while 43 percent see him in a favorable light and 7 percent are neutral on him.
Vice President Mike Pence is seen as favorable by 45 percent while 39 percent see him as unfavorable, 15 percent are neutral on him and 1 percent of those surveyed have never heard of him. Biden's running mate U.S. Sen. Kamala Harris, D-Calif., is seen as unfavorable by 41 percent while 40 percent view her favorably, 18 percent are neutral on her and 1 percent have no idea who she is.
Mason-Dixon stressed that the stakes are higher in Florida for Trump than Biden.
"Florida is a 'must-win' state for any Republican presidential candidate, as a path to 270 electoral votes is virtually impossible to reach without the 29 from the Sunshine State. It is obvious that Trump can't afford to lose here," the pollster noted.
The poll of 625 likely voters in Florida was taken from Oct. 8 through Oct. 12 and had a margin of error of +/- 4 percent.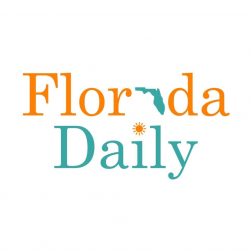 Latest posts by Florida Daily
(see all)