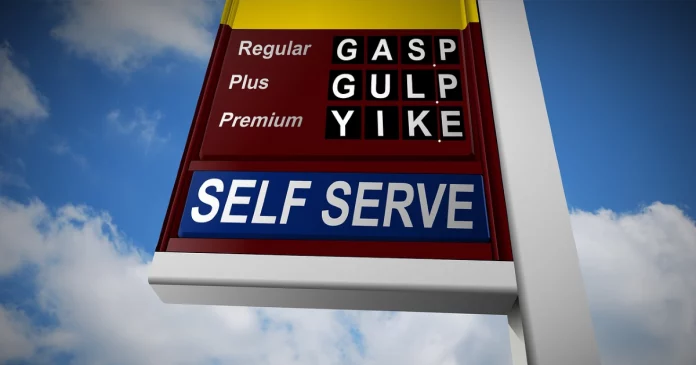 Some energy experts are saying that gasoline prices may remain stable over the next several weeks–but they expect prices at the pump to increase as spring turns into summer.
"Americans are likely to see higher prices in 2022," said Patrick De Haan, an analyst for GasBuddy.com.
De Haan said price increases at the pump could happen as early as March and consumers could see prices as high as $4 a gallon in April and May.
GasBuddy's 2022 Fuel Price Outlook shows that, by June, the national average price at the pump could peak around as high as $4.13 per gallon.
Other experts believe the cost could go higher.
Phil Flynn, a Fox Business contributor and an energy analyst at the Price Futures Group, Phil Flynn told Fox News that President Joe Biden's energy policies could lead to a national average of $5 a gallon.
Backing up Flynn was National Review writer Deroy Murdock in a piece at Fox News.
"It takes profound naivete for Biden not to recognize how his and his team's anti-oil animus has driven fuel costs skyward," Murdock wrote. "In fewer than 11 months, this administration has killed the Keystone XL Pipeline; threatened to plug the Canada-to-Michigan Enbridge Line 5 pipeline; halted oil leases in a sliver of Alaska's Arctic National Wildlife Refuge; stopped oil and gas leases on federal lands; proposed a methane tax that could cost this industry up to $10 billion annually; encouraged Left-wing activists to pressure financiers to defund oil companies. And how is this multi-front War on Oil working out? As predicted"
Murdock pointed out that in October 2021, U.S. oil drilling had plunged 38 percent versus October 2019, before the COVID pandemic.
Under former President Donald Trump, America was exporting oil to other countries, but under Biden, that has changed.
According to the Energy Information Administration, which is in charge of collecting, analyzing and disseminating energy information, in October 2017, the U.S. imported around 18,000 barrels a day from Russia. In October 2021, the U.S. imported 206,000 barrels of oil a day from Russia.
De Haan said prices could lower towards the end of the year.
"There remains higher uncertainty than in a non-COVID year, but all signs point to gas prices remaining elevated [in 2022] until the high prices attract additional oil supply, which will help prices cool off as we end 2022," De Haan said.