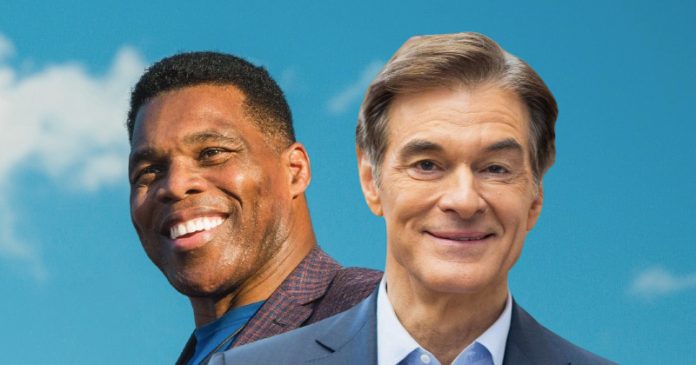 President Joe Biden's approval ratings languishing in the low 40s, Democrats behind in polls testing voter preferences for control of the House, and inflation running at 8 percent. The proverbial bases are loaded as Republicans step up to the plate.
But the emerging GOP lineup of Senate candidates is no Murderers' Row.
Herschel Walker, after securing Georgia's Republican nomination last month with minimal difficulty, stumbled out of the general election gate with a rambling Fox News interview, in which he proposed addressing gun violence with "a department that can look at young men that's looking at women that's looking at social media." Furthermore, Walker has faced old accusations of domestic abuse which will likely get more attention in the general election than they did in the primary. Democrats will not be shy about any of it. They started last week by releasing an attack ad featuring Walker hawking a quack cure for COVID-19. While Walker held a slight edge in most polls taken earlier in the year, the most recent poll, sampled in late April, has Walker trailing incumbent Sen. Raphael Warnock by five points.
Television personality Dr. Mehmet Oz eked out a win in the Pennsylvania primary with just 31 percent of the vote by pandering to Trump supporters and winning Trump's endorsement, but not before his Republican rivals pummeled him as a Hollywood phony with a record of promoting Obamacare. An Emerson College poll taken just before the primary found Oz had a 48 percent unfavorable rating – and that was just among his fellow Republicans.
Ohio's open Senate seat, now held by retiring Republican Rob Portman, has not been considered a likely pickup opportunity for Democrats. Trump won the state by eight points, twice. Yet like Dr. Oz, the Republican nominee J.D. Vance is showing scars from his hard-fought, Trump-aided narrow primary win. A post-primary trial heat from USA Today Network Ohio/Suffolk University showed Vance only two points ahead of the Democratic nominee Rep. Tim Ryan. More voters had an unfavorable view of Vance than a favorable one, while the opposite was true for Ryan.
Incumbent Wisconsin Sen. Ron Johnson is guaranteed re-nomination. But after 12 years representing this closely divided state, and showing an increased appetite for conspiracy theories, Johnson appears to be overstaying his welcome. In a Marquette Law School poll from April, Johnson received a favorable rating of just 36 percent – 10 points lower than his unfavorable rating.
In three other Senate races featuring vulnerable Democratic incumbents, we don't know yet who the Republican nominee will be, but in each, Republicans run a risk for nominating someone unelectable.
Trump just elevated the prospects of Arizona venture capitalist Blake Masters with his endorsement. But Masters is on record saying "everybody should read" the works of the convicted domestic terrorist known as the Unabomber, Ted Kaczynski, because "there's a lot of insight there." That may well end up in a few Democratic attack ads if he becomes the nominee.
Nevada Republicans appear torn between Trump-endorsed former state Attorney General Adam Laxalt and retired Army Capt. Sam Brown. Laxalt has a large lead in every poll taken so far, but Brown has been winning straw polls and besting Laxalt in small-donor fundraising. Whoever wins, Republicans will be nominating someone who has cast doubt over the legitimacy of Joe Biden's 2020 victory, in a state Biden won. Laxalt was involved in lawsuits designed to overturn the election results, and Brown accused Laxalt of missing a filing deadline, and doing nothing while attorney general to stop voting by noncitizens. (The Washington Post's "Fact Checker" column has noted that "Most reputable studies have found that in virtually all cases, any vote fraud by noncitizens is infinitesimal.")
The Republican field in New Hampshire is filled with candidates who are little known among voters, with one exception: retired U.S. Army Brig. Gen. Don Bolduc, who mounted an unsuccessful Senate primary bid in 2020. An April poll has Bolduc with 33 percent of the primary vote, with nobody else touching 5 percent. New Hampshire's primary is not until September, so a lot can still happen. But if Bolduc gets the nod, Republicans will not be well positioned for a pickup. As the Boston Globe reported, Bolduc "is often derided among the political class as an unserious candidate due to his poor fundraising and unsteadiness on the stump, including an incident where Fox News instantly fact-checked him on air."
Of course, in a midterm election with an unpopular president, the opposition party doesn't need exceptional candidates to make gains. But Republicans have wasted opportunities before, most glaringly in 2010. That was the "Tea Party" year, when Republicans took advantage of President Barack Obama's shaky standing to flip 63 House seats and seven Senate seats. But they only seized control of the House, and, by nominating far-right candidates in center-left states, Colorado, Delaware, and Nevada missed the opportunity to pick up three more Senate seats.
(Winning those three in 2010 still would have left Republicans one seat short of Senate control. But in 2012, Republicans blew two more winnable Senate races in Missouri and Indiana by nominating candidates who made controversial comments about abortion and rape. If Republicans had made better choices in both election cycles, they could have controlled the Senate for the entirety of Obama's second term.)
Also keep in mind that unlike the race for control of the House, the 2022 Senate elections do not take place in every state. The 2022 Senate map is slightly skewed in the Democrats' favor. If every state voted for Senate in 2022 the same way they voted for president in 2020, Democrats would retain all of their incumbents, and flip the Republican-held seats in Pennsylvania and Wisconsin, netting two seats and expanding their narrow Senate majority.
For Republicans to win on purple or light blue turf, even in a "red wave" year, usually requires candidates who can modulate their positions and rhetoric to best connect with swing voters. Instead, Republicans appear poised to battle for the Senate in Biden-won states with a battalion of Trump loyalists.
To borrow a phrase from Mr. Trump, they are not sending their best.
Bill Scher is a contributing editor to Politico Magazine, co-host of the Bloggingheads.tv show "The DMZ," and host of the podcast "New Books in Politics." He can be reached at contact@liberaloasis.com or follow him on Twitter @BillScher. This piece originally ran at RealClearPolitics.
Latest posts by Guest Columnist
(see all)