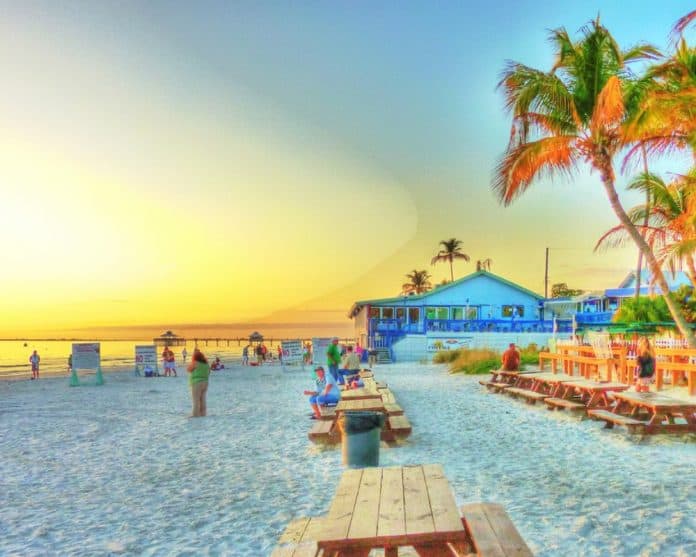 Being the fastest-growing city in America has its perks. For one thing, you might get to host the President of the United States.
Economic growth is on the rise across the country, but nowhere is the boom having a greater impact than right here in Fort Myers, the site of a "Make America Great Again" rally by President Donald Trump as he headed into the home stretch of his national midterm campaign tour.
The unemployment rate in Lee County fell to an astounding 2.9 percent in September — even lower than the still-impressive 3.5 percent rate for Florida as a whole. As a result, with employers scrambling to fill job openings, wages are on the rise and politicians are suggesting that the biggest obstacle to the region's continued growth will be a lack of skilled laborers.
Indeed, nearly 80 businesses participated in a recent job fair at Florida Southwestern State College, but while organizers were expecting between 1,200 and 1,500 job-seekers, only about 800 showed up.
Jim Wall, the communications director for CareerSource Southwest Florida, credits the "amazing" unemployment figures for creating such a tight labor market, expressing hope that workers from the north might start moving in to fill the labor shortage.
Fort Myers alone has added more than 17,000 jobs over the past year, nearly half of which are in construction, trade, transportation, and utilities.
Along with this job growth, we also have broad economic expansion thanks to President Trump's Tax Cuts and Jobs Act, which has boosted the entire community. The average family in the 19th Congressional District is saving $1,918 per year thanks to the president's historic tax cuts, and individuals have seen their average tax burden reduced by $1,336.
While this has offered great relief for Florida families, it's worth remembering that the tax cuts only passed by the slimmest of margins because every single Democrat voted against them, and against allowing Floridians to keep a larger share of their own money.
Republicans are now working on a next round, "Tax Cuts 2.0," to expand on those tax cuts and make them permanent, but that will never become a reality if the obstructionist Democrats get their way.
Democrat leaders like U.S. House Minority Leader Nancy Pelosi, D-Calif., and U.S. Senate Minority Leader Chuck Schumer, D-NY, have already made it clear that they will try to undo the president's tax cuts if their party takes control of Congress after the midterm elections.
David Holden, the Democrat candidate in the 19th Congressional District, says the president's middle class tax cuts are nothing more than "tax scams and fiscal tricks," openly proclaiming that repealing them will be "the first item on the agenda of the next Congress" if Democrats win a majority.
It's not just tax cuts and economic growth that are at stake, though. Holden backs Pelosi's policies across the board, supporting radical pro-abortion and gun control policies, as well as amnesty for illegal immigrants. He is also an enthusiastic supporter of Obamacare, which has caused health insurance premiums to increase by over 70 percent in Florida since it was enacted.
U.S. Rep. Francis Rooney, R-Fla., on the other hand, not only voted for the Tax Cuts and Jobs Act, but has been a consistent supporter of President Trump's pro-growth policy agenda overall.
Republican Senate candidate Gov. Rick Scott also has a stellar economic record as governor that makes him a safe bet for Florida, and for all voters who want the good times to keep rolling.
Gov. Scott cut taxes by more than $10 billion during his time in Tallahassee, and he's even leaving a parting gift in the form of the Amendment 5 ballot measure. If approved by voters, Amendment 5 will make it harder for state politicians to hike our taxes in the future by requiring a two-thirds majority for all future statewide tax increases.
Reelecting Congressman Rooney and sending Rick Scott to the Senate would be a great way for Fort Myers to continue to grow. President Trump came to see America's fastest-growing city for himself. By sending great leaders such as Rooney and Scott to Washington who will help the President with continued economic growth policies, we can keep Fort Myers on track for more.
Julio Gonzalez founded Engineered Tax Services.
Latest posts by Guest Columnist
(see all)