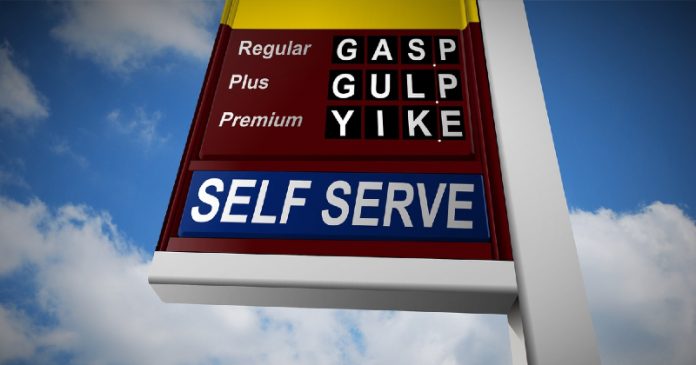 President Biden's regulatory policies toward domestic energy production have unwittingly only worsened America's energy crisis. The cancellation of the Keystone XL pipeline, pausing lease sales on federal lands and offshore, and enacting new burdensome federal rules are not easing record costs we see today. The national average for gasoline is nearing $5 per gallon, $1.80 higher than it was just a year ago, while many states sit well above the national average.
Initially caught off guard, the Biden administration seems unable to articulate just how it will address rising fuel costs. In May, the Department of the Interior inexplicitly canceled several offshore lease sales, including Alaska's Cook Inlet, and two others in the Gulf of Mexico. These decisions remove inventory at a time when production and supplies must be increased to ease costs on all of us. For example, the Cook Inlet sale removes over 1 million acres that may be suitable for drilling, ending the possibility that additional supplies of oil could come to market in the years ahead.
The Interior Department's announcement is significant because it signals the end of new lease sales under the current 2017-2022 leasing program. In testimony before the Senate Energy and Natural Resources Committee in mid-May, Interior Secretary Deb Haaland said the department planned to release a proposed five-year plan at the end of June, but she declined to detail if the plan will authorize any new exploration. Such ambiguity does little to create confidence. Alaska Senator Lisa Murkowski recently suggested that, "the Biden administration needs to recognize how this decision is going to hurt Alaskans, reverse it immediately, and get the federal oil and gas program back on track now." It is now June, and time for the administration to make good on Secretary Haaland's assurances.
As the status of federal leasing remains vague, federal regulators are also in the process of deciding the status of a key pipeline that operates in the Midwest. The Dakota Access Pipeline (DAPL) is an indispensable piece of America's energy infrastructure, transporting over half a million barrels of oil each day from North Dakota to Midwest markets. Yet this critical piece of energy infrastructure remains under assault, with far-left groups continuing to challenge it in courts. If opponents have their way, oil could stop flowing altogether.
Obfuscating their real intentions, opponents have raised objected to easements, environmental reviews, and safety issues. In truth their goal is much simpler – stop oil production, at a time when inadequate supplies already threaten the economy. The reality is that DAPL is also one of the safest pipelines ever built. DAPL features a control center that continuously monitors the integrity of the pipeline and has a comprehensive response plan endorsed by the federal pipeline safety agency I once headed. With nearly five years in active service, it has never been subject to a major incident.
As the federal government's former head of energy transportation, I can personally attest to the importance of pipeline infrastructure to the United States. Pipelines are the safest and most efficient method of transportation for oil and natural gas. A
2019 report
compiled by PHSMA to Congress found that pipelines have a significantly lower incident rate when compared to other forms of transportation.
Facts surrounding the safety and environmental benefits of pipeline infrastructure also do not seem to appeal to activists, who are determined to mothball DAPL. Opponents demand the Biden administration issue an executive order shuttering the pipeline and are exploiting the National Environmental Policy Act's judicial process. While President Biden has yet to bow to political pressure from the fringes of his party, lawyers have had some success through the courts.
Following a federal ruling, the courts determined that the Army Corps of Engineers should conduct another environmental review of the project. The decision is questionable, as the Army Corps has already spent years studying DAPL's route, consulting stakeholders, and working with local communities to determine its safety before giving its approval. Already, the
Army Corps has found DAPL's route would not have a significant impact
on the environment
.
The Army Corps expects to release its final analysis in September. No matter how long or how much taxpayer dollars are expended in studying the line, it will never be enough for opponents.
Considering its impeccable safety record and its importance to our economy, it is critical that the federal government continues to keep DAPL in operation. As gas prices reach new record highs with each passing day, it is time for President Biden to prioritize our national economic health over the self-serving demands of those out of step with reality. President Biden must advance a long-term energy agenda that benefits America's economy and its citizens.
Brigham McCown is a domestic and foreign policy expert who has held senior posts in three presidential administrations. He has served under three cabinet secretaries from both major political parties and ran the Trans-Alaska Pipeline System. This piece originally ran at RealClearEnergy.
Latest posts by Guest Columnist
(see all)