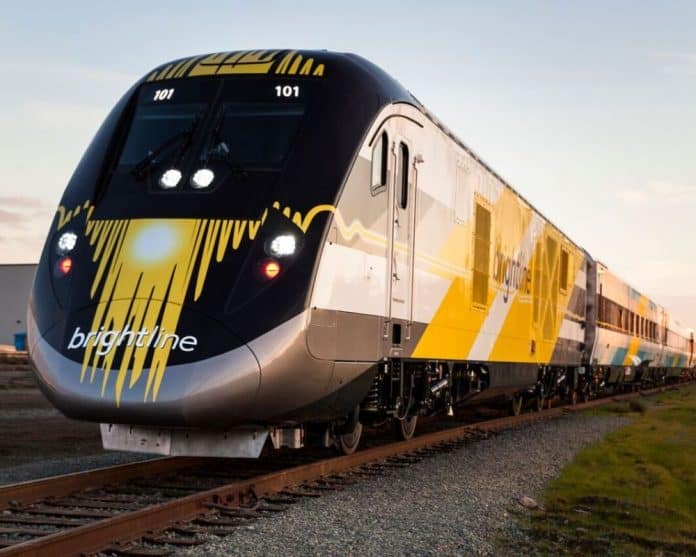 Time and options are running out for opponents on the Space Coast and Treasure Coast who want to see the Brightline train from Miami to Orlando stopped.
This month, the Florida Development Finance Corporation (FDFC) approved All Aboard Florida for Private Activity Bonds, loans that are tax free.
State Sen. Debbie Mayfield, R-Melbourne, said she was disappointed by that decision but added that she was surprised the FDFC approved the bonds. She wanted the FDFC to wait until a study is completed on the impact of the train on the rail corridor from Cocoa to West Palm Beach.
"Where is the best place for them to be built and what are the safety measures that are needed to protect the citizens?" Mayfield asked. "I am disappointed they did not take this in account."
Brightline is already up and running from West Palm Beach to Miami. The eventual plan is to run a train from downtown Miami to the Orlando International Airport. All Aboard Florida plans to begin construction on Phase II from West Palm Beach to Orlando by the end of 2018 with service slated to start in 2021.
The train will not be a true high speed rail system like what is found in China. However, the train will make the trip from Orlando to Miami in around three hours. In order to accomplish this, the train will have to reach speeds of 110 miles per hour in some parts of the stretch between West Palm and Cocoa and as fast as 125 miles per hour as it approaches Orlando on new tracks that will be built beside the Beachline.
Mayfield says those higher speeds need to be more closely scrutinized.
"The tracks that they are installing and the safety mechanisms that they are installing obviously hasn't been studied to know whether or not it is safety for high speed passenger rail," Mayfield said. "There is a huge difference between a high speed passenger rail that is going to go 80 miles per hour in some areas and 110 miles in others than a freight train that will be slowed down to 20 miles an hour or 30 miles an hour whenever it is coming through these communities at these crossings. So that is where our concern is."
Mayfield said nine people have already died in train accidents since the January along the corridor which is already open.
Brightline insisted it is putting a massive effort into safety. In a letter to Congress, Myles Tobin, the general counsel for All Aboard Florida, described part of that effort including closed corridors.
"Pursuant to FRA's Sealed Corridor Guidelines, where Brightline trains traverse crossings at 80 mph or greater, the crossings will incorporate vehicle presence detection, health monitoring, and 'four quadrant' gates," Tobin noted. "Further, positive train control will be implemented on the entire corridor, which will enable remote stoppage of trains if speed limitations are exceeded."
Mayfield said she is concerned about trains traveling through downtown areas in Stuart, Fort Pierce and Melbourne. Another concern from the groups opposed to the train is the ongoing cost for maintenance of the hundreds of railroad crossings that are being upgraded as part of this project.
Opponents of the train, including Mayfield, told the FDFC that taxpayers should not have to pay for maintaining these crossroads.
"They think that because they have that agreement with FEC to put their tracks along the side of FEC tracks, that also obligates the counties and the cities to maintain those at-grade crossings where their tracks are on just because it is next to the FEC tracks," Mayfield said.
Tobin disagreed with Mayfield's take.
"FECR will operate on the new trackage constructed by Brightline, and the crossing warning devices will notify pedestrians and motorists of FECR trains as well as Brightline trains. Therefore, it is entirely appropriate that these new improvements be included within the scope of the existing crossing maintenance agreements," Tobin insisted.
If All Aboard Florida can sell $1.75 billion worth of tax free bonds on the open market, opponents may be out of options. Mayfield wants the Citizens Against Rail Expansion (CARE) and other opponents of the train to keep trying to stop Brightline.
"If they want to go from Orlando to the port, so be it. Go up 528. Those are major highways where there is not real estate. There is not residential real estate that is built along those tracks. If they want to go from Orlando and stay on the Beachline and go straight to Cape Canaveral, I think that is wonderful. People probably would ride it from Orlando to the Cape," she said.
Several counties and cities along the route have a federal lawsuit against the train which is still working its way through the courts. St. Lucie, Martin and Brevard Counties are all considering whether or not to try and get Brightline stopped in the courts. The problem remains balancing the need for a faster trip from Miami to Orlando with the time it would take to add a stop for the train at one or more of those cities along the coast.
 Reach Mike Synan at Mike.Synan@floridadaily.com.
Latest posts by MIKE SYNAN
(see all)