 Businessman and writer Ryan Chamberlin is running in the crowded Republican primary to replace U.S. Rep. Ted Yoho, R-Fla., who is keeping his pledge to serve only eight years in Congress.
Chamberlin jumped in the race on Tuesday.
"Ted Yoho was a leader who embodied what we need in Congress," said Chamberlin.  "He pledged to serve for eight years, and he did what he said he would do.  Now, we need others in his same spirit of service to step forth, not to become a part of the Washington establishment, but to fight it, to break it down, and continue the effort to restore America as one nation under God, governed by and for the people."
Chamberlin pointed to his experience in the private sector which has led him to speak on leadership and work with Success Magazine.
"I have repeatedly seen how great businesses become dysfunctional when the leaders of the organization develop an attitude of entitlement, let their egos affect their decisions,and when they spend their time on a personal agenda instead of the goals of the company.   Right now, the United States Congress is dysfunctional, and it has become unresponsive to the people," Chamberlin said.
The new candidate insisted he would support President Donald Trump in Washington.
"Under President Donald Trump's leadership, we have made progress, but he needs help in the U.S. Congress," said Chamberlin.  "Too many in Congress have fallen short of their campaign promises, and as a consequence, taxing and wasteful spending are out of control.  Federal agencies have become too powerful and intrusive, and the necessary items like the combat readiness of our armed services and border security are debated and debated with little real action.  Instead of the federal government serving the people to help fuel the economy, they've added extra layers of bureaucracy that discourage job growth and entrepreneurism. It's really all a bunch of nonsense!  We need less talk and real action.
"On this very day in 1789, the first Electoral College made General George Washington the first President of the United States.  Washington had an America First agenda.  His only ambition was to do what was best for the country.  That is lacking in Congress today."I am running for Congress because I see a need for principled leadership, and I am motivated by my four sons and my concern for their future and the America that they will inherit from us.  Never let it be said by the next generation that we shied away from the fight.  America is worth fighting for," he said in conclusion.
With Yoho bowing out of the race, a large field of Republicans is lining up to replace him.
Current active candidates include longtime Yoho aide Kat Cammack, former Gainesville City Commissioner Todd Chase, Ocala Mayor Kent Guinn, former congressional aide Joe Millado, Clay County Commissioner Gavin Rollins, businessman Judson Sapp, physician James St. George and businesswoman Amy Pope Wells in the Republican primary.
Four Democrats–Adam Christensen, Phil Dodds, Richard Rowe and Tom Wells–are running in this solidly red district which stretches from Clay County to parts of Gainesville and Ocala.
Reach Kevin Derby at kevin.derby@floridadaily.com.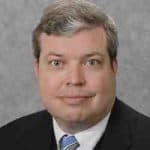 Latest posts by Kevin Derby
(see all)