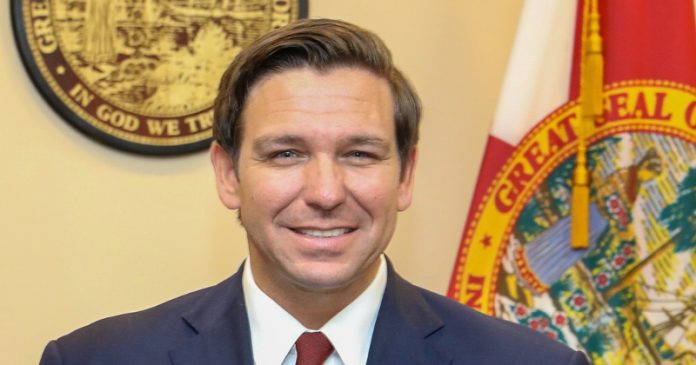 Support for Gov. Ron DeSantis is surging among Florida's minority communities, reflecting a nationwide trend that could be decisive for President Donald Trump's reelection in 2020.
Gov, DeSantis was a staunch supporter of President Trump long before launching his gubernatorial campaign in 2018. As a member of Congress, he was one of the leading advocates for the president's agenda, kindling a friendship between the two leaders that endures to this day.
The president endorsed DeSantis early on in his primary campaign, after which he surged to the GOP nomination.
Since becoming governor, DeSantis has been an important ally to President Trump, implementing key aspects of the president's agenda in the Sunshine State. That alliance is enormously beneficial to Florida, giving us an influential advocate in Washington.
During the campaign, DeSantis faced many of the same smears that are routinely directed at Trump, including some fairly ugly racism accusations. Those attacks failed miserably — because they were patently false, and the voters knew it. DeSantis performed respectably among African American voters in that election, drawing especially strong support from parents eager to expand the school choice programs championed by Republicans. Nearly one in five black women voted for DeSantis, double the number who voted for GOP Senate candidate Rick Scott.
Notably, DeSantis was able to attract such an impressive number of African American votes despite the fact that his opponent was the first African American gubernatorial nominee in Florida history, former Tallahassee Mayor Andrew Gillum.
After entering the Governor's Mansion, DeSantis immediately started to fulfill his campaign promises, and that seems to be paying dividends for his relationship with the black community. It's closely reminiscent of President Trump's governing style, which is also based on a rigorous commitment to keeping his promises.
Recent polling claims that DeSantis boasts a 63 percent approval rating among African Americans, and a 67 percent approval rating among Hispanics. Those numbers sound striking, but they're actually just a continuation of a trend that's been evident over the past several months. In August, a different poll found that DeSantis enjoyed a 32 percent approval rating among African Americans, and yet another poll, released in October, put the figure even higher, at 50 percent.
Paralleling the experience of Governor DeSantis, support for President Trump is rising in the black community. African Americans, like everyone else who felt left behind by the political establishment, are prospering under President Trump's commitment to American citizens — and a growing number of prominent black leaders are passionately and persuasively arguing that four more years of plentiful jobs and rising wages is preferable to returning to the economic stagnation of the Obama era.
Hispanics, too, are reacting far more positively to the strong and growing economy than most Beltway pundits expected. The president has been flirting with a 50 percent approval rating among Hispanic Americans, suggesting that he'll be able to significantly improve upon his already-impressive 2016 vote tally with that demographic.
All the smears in the world can't change the fact that the America First agenda is resonating with minority voters who are tired of being taken for granted by Democrat politicians. Governor DeSantis' surging approval ratings are a compelling sign that President Trump's outreach efforts to the African American community will succeed. That could be the factor that seals his reelection, and I look forward to helping him do it.
State Rep. Byron Donalds, R-Naples, is a member of the Florida House of Representatives. He represents all of Hendry County and part of Collier County. He was first elected in 2016. 
Latest posts by Guest Columnist
(see all)