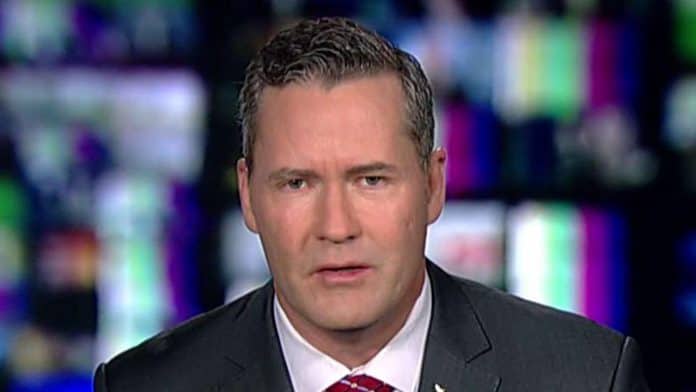 Army Reserve Lt. Col. Michael Waltz is looking for a red wall to help him replace U.S. Rep. Ron DeSantis, R-Fla.,  as the congressman for District 6 which covers parts of St. Johns and Volusia County and all of Flagler County.
To do so, Waltz will have to defeat the Democrat nominee, former Amb. Nancy Soderberg who cut her foreign policy teeth with the Clinton administration. Waltz has the resume to match her, including working as a counter terrorism advisor in the Bush White House in the aftermath of 9/11. He plans to talk about seeing how those tough national security calls are made.
"Yes, Nancy has some strong national security credentials, but I would argue, and will argue in this campaign to look at the results of them," Waltz told Florida Daily. "The Clinton administration treated terrorism as a law enforcement problem to kind of be arrested, tried in court, and dealt with. The Bush administration, it was a war, the war on terror. They were at war with us, and we needed to treat it as such. So there are some important differences on how we view the world that I think will come out in this campaign."
Waltz plans to focus on healthcare for veterans if elected, saying President Donald Trump took the right first step in signing two bills to help veterans get better healthcare. Waltz emphasized the importance of the Accountability Act which allows employees at the VA to be fired more easily for wrongdoing and incompetence.
"Any time you introduce accountability into a federal agency and any time you give the veterans who need care a choice when they are not getting it to go to a private health provider, I think those are two very important steps," Waltz said.
Soderberg has made healthcare her central issue in the campaign, saying for affordable healthcare for all is her top priority and claiming it is a right. Waltz is ready for a fight on the issue of healthcare, pointing to the much maligned VA as an example of why single payer healthcare is a bad idea.
"For anybody who argues for government run, government managed healthcare, look at the struggles and look at the deficiencies of the VA because that essentially is it," Waltz said. "You've got over 1,200 hospitals and clinics where the government is managing day to day facilities, supplies, hiring, firing, physicians. That's what the Democratic Party wants to push us towards, a European single payer government run system."
Waltz says he was frustrated as a business owner to pass along healthcare premiums to his employees after the Affordable Care Act passed. He suggested tort reform as one place to start in terms of lowering costs for healthcare and reducing the billions of dollars in Medicaid fraud as another.
After serving for 22 years in the military, Waltz says his top priority in Congress will be passing some kind of legislation that increases service to the country, especially among younger Americans.  He is open to ideas on how to make it possible without a draft or mandatory entry into the Peace Corps.
"How do we get our country to where we are serving our community again?" he asked.  "Where young people are off their couch, off their television, off their phone. Not a draft, not necessarily in uniform. I'm talking elderly care, Peace Corps, national parks, you name it. There are ways to incentivize that to where people are going to want to do that."
Waltz says another priority will be to support Puerto Rican statehood
"They've had a number of referendums. Over half a million have supported it. They do not have federal representation that can vote in Congress. They are paying their taxes, and most importantly Puerto Rico has the highest percentage of representation in the United States military than any other state. That is another issue that I want to get behind when I get up there," Waltz said.
Waltz believes he is like the DeSantis in many ways, saying they are both "constitutional conservatives." Waltz told Florida Daily the main difference between the two men is that DeSantis was in Navy while he was in the Army.
Reach Mike Synan at Mike.Synan@floridadaily.com.
Latest posts by MIKE SYNAN
(see all)