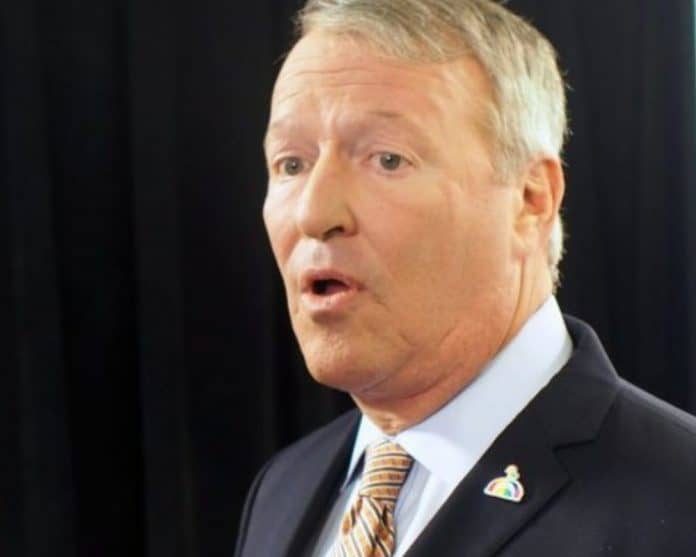 Voters go to the polls in Orlando on November 5 and will vote on whether Mayor Buddy Dyer deserves a fourth term.
In the final runup to the election, local news broadcasts have been flooded with commercials touting Dyer as "the happiest mayor in America." Dyer has been using a sizable amount of his large war chest as the race goes down the stretch.
For the first time since he took office in 2003, Dyer faces serious and well-known challengers. District 6 Commissioner Sam Ings decided to challenge Dyer after years of eyeing the seat, hoping the mayor would move on to higher office. Ings spent 30 years as an Orlando police officer before winning his seat on the council in 2006.
Ings has focused on inclusion, saying "my arms are open wide, even for business people" at the final debate.
There's also a third candidate in the race in grant writer and Navy veteran Aretha Simons. While she hasn't raised much money, she has been effective on the attack, trying to counter Dyer's "happiest mayor in America" line. "I think we have a lot of people in Orlando that are sad about the situation we are living in," she said.
The question is whether either candidate can find a chink in Dyer's armor on policy.
At the final debate, Ings tried to ding the mayor over affordable housing as he insisted the city and region need more of it.
"Take stock of the land we have already," Ings said. "Then we need to try to get developers to come in and provide incentives for them so that they can build these homes and these multi-family units at a profitable rate because we know that business is in business for business."
That's almost exactly what the city has been doing with Dyer at the helm which Ings has–mostly–agreed with as a commissioner. Dyer pointed out Orlando has already handed out $28 million in affordable housing incentives.
"We can't do it all just in the city of Orlando. We need some of our neighbors to kick it up a step," Dyer said.
Simons called for more federal funding through grant writing and the city setting up its own housing fund.
Perhaps the best chance for the challengers could be focusing on a proposed one percent sales tax increase that will go to voters in Orange County in November of 2020. Dyer unequivocally backed the proposed tax. Ings may have an opening since he opposes that tax proposal.
The candidates clashed over transportation funding. Ings wants to get more federal and state funding for roads, giving Dyer an opening.
"Transportation congestion is going to be an issue and we just can't stand here and say we are going to ask the federal government to give us some money, ask the state government to give us some money," Dyer said, showcasing his support for the tax proposal. "We have to be bold.
"There are no other things available unless we get laws changed," Dyer added. "So I say we take the bull by the horns and get that tax passed."
Simons wants to raise hotel taxes but state law prevents revenue raised though them from being used on transportation projects.
The two challengers face an uphill climb. Dyer's message has been simple, calling for voters to judge him on his merits and insisting if he says something, it will get done. Voters will have their say next week on whether or not they are buying Dyer's message.
Reach Mike Synan at mike.synan@floridadaily.com.
Latest posts by MIKE SYNAN
(see all)