A prominent national pundit is improving U.S. Rep. Carlos Curbelo's, R-Fla., chances of winning a third term in November but Democrats insist they have a good shot of taking him down.
The Cook Political Report issued its latest outlook and, while it lowered the odds of many GOP incumbents, boosted Curbelo's stock, moving the race from "Toss Up" to "Lean Republican."
"Curbelo should have no business surviving in a suburban Miami seat that voted for Hillary Clinton 57 percent to 41 percent in 2016," the Cook Political Report insisted. "But the Republican hasn't been shy about his support for immigration reform and a carbon tax, or calling the president's remarks in Helsinki 'unacceptable' and 'deeply alarming,' and private polls continue to show him in surprisingly good shape for reelection.
"Democrats say Curbelo's vote for the GOP healthcare bill proves he's a secret Trump ally hiding behind a moderate facade," the outlet continued. "And, they believe they'll benefit from nominating someone other than disgraced former Rep. Joe Garcia: fundraising consultant Debbie Mucarsel-Powell, a fundraising consultant and former FIU official who lost a state senate race in 2016 but has raised $1.6 million for this race. Mucarsel-Powell believes her personal story of losing her father to gun violence in Ecuador will resonate in a district not far from Parkland High School. But she's also not the most polished or dynamic candidate and could struggle against Curbelo in a debate setting. It's still a competitive race, but Curbelo starts out well ahead and the burden is on Democrats to link him to the president."
The Democratic Congressional Campaign Committee (DCCC) fired back with a poll which showed Curbelo up against Mucarsel-Powell 48 percent to 41 percent but the race narrows when biographical information is included.
"In a July DCCC IE survey of likely 2018 general election voters conducted by GBA, Democrat Debbie Mucarsel-Powell pulls even with Republican incumbent Congressman Carlos Curbelo at 46 percent after voters hear basic biographical information on both candidates. In the initial vote, despite major name ID disparity, Mucarsel-Powell earns 41 percent to Congressman Curbelo's 48 percent. This lead quickly erodes after equal biographic information from both sides," the DCCC noted in a release on Wednesday.
"In the informed vote, Mucarsel-Powell earns 27 percent of registered Republicans, and leads Congressman Curbelo by 5 points among registered Independents/No Party Affiliation, 45 percent to 40 percent," the DCCC continued. "Mucarsel-Powell leads Curbelo by 27 points among voters under the age of 40, 58 percent to 31 percent and by 9 points among women, 51 percent to 42 percent. Mucarsel-Powell holds a firm 18-point lead among Hispanic voters under 50, 55 percent to 37 percent and a 2-point lead in Miami-Dade County, 47 percent to 45 percent.
"Throughout the survey, Curbelo is unable to earn a majority of respondents, and respondents move away from Curbelo over the course of the poll," the DCCC claimed. "This exodus from Curbelo is spurred by the introduction of Mucarsel-Powell, who at the time of the poll was largely unknown and had not yet communicated with voters in the 26th district. In this poll, Mucarsel-Powell had 22 percent name ID, with 2-to-1 favorability among those who knew her."
The DCCC insisted that the "current national environment is toxic" for Cubrelo and vowed to link to him to President Donald Trump.
"In 2016, President Trump lost FL-26 by 16 points, 40.2 percent to Clinton's 56.4 percent, and it seems attitudes towards the national Republican Party remain negative," the DCCC noted.  "The President is viewed very unfavorably by 44 percent of the district, and a plurality of respondents (48 percent) indicated that they preferred a Congress controlled by Democrats that would provide checks and balances on President Trump rather than a Congress controlled by Republicans that would work with Trump to get things done (39 percent). Further, at the top of the ticket, Senator Bill Nelson leads Governor Rick Scott by 6 points, 48 percent to 42 percent. In the generic ballot, a generic Democrat leads a generic Republican by 14 points, 52 percent to 38 percent. The most effective negative messages against Congressman Curbelo included Curbelo's costly vote to gut Medicare and Medicaid, his support of the tax law that increases the tax burden on Floridians by thousands of dollars, and Curbelo's recklessness in voting 11 times to repeal Obamacare."
Curbelo and Mucarsel-Powell both have primaries to get through at the end of the month. On August 28, Curbelo faces teacher and former presidential candidate Souraya Faas. On the Democratic side, Mucarsel-Powell must get by retired Navy officer Demetries Grimes in the primary.
Kevin Derby can be reached at Kevin.Derby@floridadaily.com.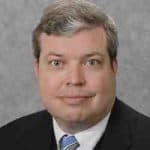 Latest posts by Kevin Derby
(see all)