On Monday, Florida First Lady Casey DeSantis was on the First Coast to continue her fight against opioid abuse and work on Neonatal Abstinence Syndrome (NAS).
As part of her Hope for Healing Florida initiative, DeSantis toured UF Health Jacksonville's neonatal intensive care unit and held a listening session on emerging NAS trends, challenges and best practices for helping those struggling with drug addiction. She also visited the United Way of Northeast Florida 2-1-1 headquarters, which serves the local community and helps those in crisis.
"Neonatal Abstinence Syndrome is a serious issue in our state, and I am determined to keep the momentum moving at a rapid pace toward real solutions and real strategies to help people overcome addiction," said DeSantis. "The urgency is indisputable. Families and communities are fighting this battle, and we must continue to provide lifelines through resources, support and, most importantly, hope. I want to thank UF Health Jacksonville for having me today and for working with me to bring this issue to the forefront."
Last week, DeSantis announced a new NAS Statewide Prevention Coordinator position to enhance resources and services for pregnant women with opioid addiction and almost $59 million in federal grants over the next three years to fight opioids.
"According to the Florida Department of Health, last year more than 4,200 individuals lost their lives to opioids and more than 1,500 children were born with neonatal abstinence syndrome. On average, 17 Florida lives are lost every day to opioid abuse," the governor's office noted.
"I am grateful Governor DeSantis and First Lady DeSantis have made this important issue a priority for our state," said Florida Surgeon General Dr. Scott Rivkees. "Under their resolute, decisive leadership, we have taken bold steps to combat this epidemic. Today's discussions with dedicated health and substance abuse professionals continue the work begun by the Governor and First Lady, who are committed to finding meaningful ways to help those suffering from addiction."
"I'm grateful that Governor DeSantis and First Lady DeSantis continue to bring awareness to the importance of behavioral health and make it a priority for this administration," said DCF Secretary Chad Poppell. "Their combined dedication to this issue is truly unprecedented, and the Department of Children and Families is proud to be partnering with them in this effort. Together, we are taking action to increase prevention activities and provide high-quality, timely behavioral health services to people whose lives have been turned upside down by substance abuse. We're giving hope to adults, children, and babies, and protecting the sanctity of Florida's families."
"We were honored to have First Lady Casey DeSantis at UF Health today to share her ongoing efforts to help our families and children who are being affected by the opioid abuse wreaking havoc on our communities," said Dr. Leon Haley, the CEO of UF Health Jacksonville. "Her Hope for Healing Florida campaign is shining a necessary light on substance abuse and mental health. The UF Health team and I look forward to continuing to work with her on these issues."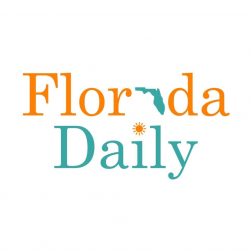 Latest posts by Florida Daily
(see all)