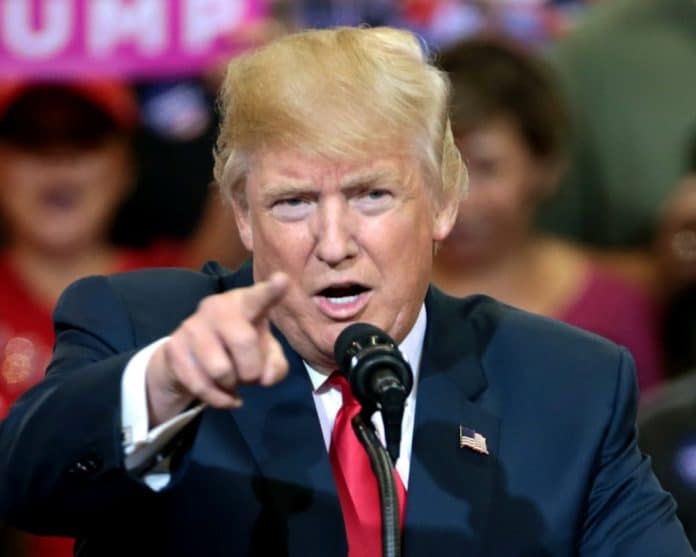 President Donald Trump arrives in Orlando on Tuesday for a massive rally to kickoff his 2020 reelection campaign–and both parties are fired up and ready to go for the launch.
Randy Ross led the effort in Orange County for Trump in 2016. With 2020 in sight, he's already working on fundraising and can feel that enthusiasm among GOP voters and elite donors. "I've never had such a wonderful reaction, and this includes my trips to Mar-A-Lago. I'm just excited to be involved in the process," Ross told Florida Daily.
The excitement had already spilled over to downtown Orlando by Monday morning with people already in line for the rally more than 35 hours before the doors open. "They are operating that first position in shifts because we all have regular lives too. They can't stay there all day and all night," Ross told Florida Daily.
More than 106,000 tickets were requested for this rally at the Amway Center which seats about 20,000. Some of the people who asked for tickets aren't Trump supporters, something the Republican Party of Florida (RPOF) and Ross understand going into the event.
"We are aware that because the tickets are free and they are not assigned," Ross said. "It is general seating, first come, first serve. We are aware that a lot of folks from the opposition side are going to go and request those tickets, hoping for some reason that creates voids within the crowd etc. but that is not the case."
In the meantime, people from across Florida and the nation hope to see Trump kickoff his election bid. To deal with all of those people, including the ones that won't be able to get in, the campaign is setting up what they are calling "45 Fest" that will begin at 10am and entertain crowds throughout the day, including putting the president's speech on jumbotrons outside the arena.
"It's really like a festival atmosphere. The have got to do some things to keep the people entertained," Ross said. For those that will make it inside, it will be a long day in the sun or rain depending on what time of day it is. Ross suggested packing a lunch and some water, even going to a dollar store for a poncho.
"If you are going to stand in line, which obviously a lot of people are planning to do that, you need just be prepared to make sure you can make it to the end," Ross said.
Democrats are fired up as well with a series of protests planned that includes the 20 foot tall "Trump Baby" diaper clad balloon made famous during recent protests in London. Democrats released a poll this week from left leaning Public Policy Polling (PPP) showing just 28 percent of Orlando voters support the president's bid for reelection.
Florida Democratic Party (FDP) Executive Director Juan Penalosa pounced on the choice of Orlando for the rally.
"After spending his entire presidency threatening healthcare coverage for pre-existing conditions and looking out for his rich and powerful friends at the expense of hardworking Floridians, Orlando voters think Trump is toxic. When Donald Trump arrives in Orlando this week voters will greet him with a simple message: Florida will defeat you in 2020," Penasola said on Monday.
For Ross, it is not about Trump winning heavily Democratic Orlando and Orange County where there are 130,000 more Democrats and 40,000 more independents than registered Republicans.
"What we have to remember is that there are Democrats and independents that voted for this President and will vote for him again, and we have to also remember that all we can really do is limit the numbers, keep those margins as close and as tight as possible. We understand that we will not likely win Orange County, but we have to reignite the base," Ross said.
As for the efforts to fire up the base, America First Policies will be holding a voter registration drive outside the Amway Center leading up to the president's visit.
"There are millions of patriotic Americans who believe in the America First movement, but aren't registered to vote," said America First Policies President Brian Walsh. "Returning power to the people requires an active, engaged citizenry. Let your voice be heard. Join the movement."
That group plans to spend millions in battleground states–including Florida–in the months leading up to the election to try and get new conservatives to the polls.
Reach Mike Synan at mike.synan@floridadaily.com.
Latest posts by MIKE SYNAN
(see all)