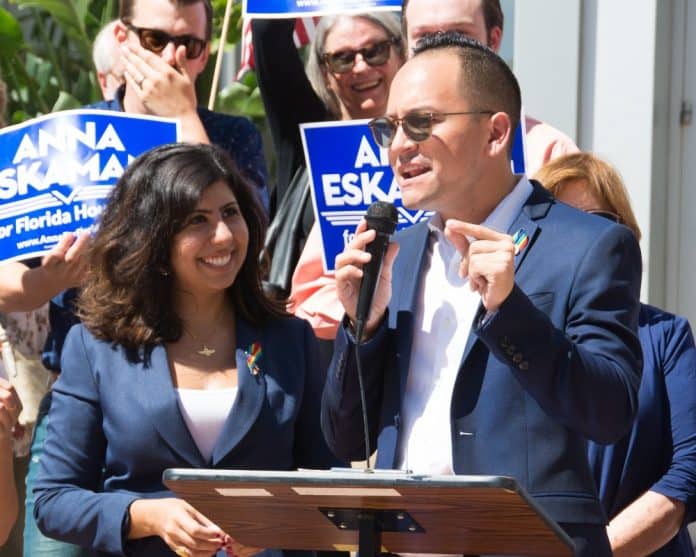 State Rep. Carlos Guillermo Smith, D-Orlando, and Anna Eskamani are trying to remake politics in Central Florida and it starts next month.
With the primary looming at the end of next month and the general election waiting in November, Eskamani is trying to enter the Legislature, her eyes set on a district encompassing central Orlando. Smith is running for a second term. While they are not romantically involved, they are peas in a pod when it comes to politics, both of them proud progressives.
"We're cut from the same cloth, and we have so many shared progressive values and styles of advocacy," Smith said.
The pair first met when Eskamani was a young advocate at UCF and Smith an aide to then state Rep. Scott Randolph, one of the leading liberals in Tallahassee at the time. Smith had Eskamani's  twin sister Ida in the office as a volunteer and he and Anna hit it off right away.
"I absolutely adore Representative Carlos Guillermo Smith," Eskamani told Florida Daily. "We have been in the trenches together for a long time…. I really looked up to Carlos as a mentor and role model."
The two Central Florida Democrats are no strangers to protests. Eskamani most recently made headlines staging a "Die In" at Publix over their support of the NRA .
Neither of the two Democrats plans to change their style. Smith insists it's important to know exactly who you are and neither of these firebrands plans to change.
"Being a progressive grass roots organizer is part of our DNA, and it's what makes us effective progressive leaders," Smith said. "We don't necessarily want to shed that identity. There is such a thing as being an elected leader and being an effective activist at the same time."
If both can make it to Tallahassee, it will mark a significant shift to the left that has already happened in voter registration in Orange County. Now it could be coming to the region's political leaders, especially if Eskamani flips the seat currently held by state Rep. Mike Miller, R-Orlando, who is running for Congress. Eskamani is the Democratic candidate in the race as her only primary rival dropped out this week.
State Rep. Scott Plakon, R-Longwood, is in conservative Seminole County and wonders how liberal House members will play in the state Capitol.
"I told Carlos recently if Anna gets in there, God forbid, she'd be the number one liberal, more than Carlos," Plakon told Florida Daily.
Both Smith and Eskamani agree though they insist this shift to the left has been a long time coming. Eskamani says she despises those types of labels, adding that she is willing to talk to anyone, anytime. Leadership from the top down has hurt the party, according to Eskamani
"We witnessed a deep disconnect between our party and people on the ground," Eskamani said.
Conservatives warn that more liberals like Smith and Eskamani could lead to some major changes in Tallahassee, including on gun control legislation.
"If you look at Carlos's bill that he filed, it would ban something like 75 percent of firearms," Plakon said. "It's really ridiculous.  I think what we need is common sense legislation to keep people safe."
The Longwood Republican would prefer something like the Marjorie Stoneman Douglas Safety Act. Miller voted against that measure, saying it clashed with the Second Amendment, but Plakon believes Eskamani would vote against it because it did not go are enough.
"I'm sure Anna would have voted against it, and rallied, and probably laid on the floor of Publix against it," Plakon said.
Smith also doesn't bother to hide his support of gun control.
"We've never beat around the bush on where we stand when it comes to bold gun safety reform," Smith said though, of course, he and Eskamani insist they will not be coming for your guns.
However, it could be a different story for Floridians trying to buy a new gun. Smith's first bill would have limited the ability to purchase firearms and he promises to bring the legislation back.
"Civilians should not have access to weapons of war," Smith said. "That's different than 'oh we oppose the Second Amendment.' It's a bulls–t narrative and people are waking up to that."
Eskamani told Florida Daily she stands with Smith when it comes to limiting the number of new purchases of guns.
"With Pulse Nightclub in my district, we can't not talk about it," she told Florida Daily. "There were Democrats that told me early on in this campaign not to talk about guns and I refuse to take that advice."
State Rep. Bob Cortes, R-Altamonte Springs, says gun control advocates are perfectly capable of bringing these bills  to Tallahassee but passing them is another matter
"She's still going to be in the minority," Cortes said about Eskamani. "She'll be in the back of the room. If she wants to raise her voice respectfully, we'll work on things together. If there's good policy they want to bring forward, we will listen to it. If it's anything to take away the guns, then obviously there's a Republican controlled Legislature. She'll have to deal with to do it."
In the meantime, Eskamani is promising to fight for her district while Smith believes the future in Orange County is bright and progressive.
"Anna and I are a force to be reckoned with, and I don't just mean in Tallahassee, I mean in the Democratic Party," Smith said. "We are beyond asking for a seat at the table. We just need to walk in and claim it."
Reach Mike Synan at Mike.Synan@floridadaily.com.
Latest posts by MIKE SYNAN
(see all)