U.S. Rep. Charlie Crist, D-Fla., wants the commandant of the U.S. Coast Guard to be a full voting member of the Joint Chiefs of Staff (JCS).
Crist paired with U.S. Rep. Steven Palazzo, R-Miss., on a bill to do just that this week and offered the rationale behind the proposal.
"The Joint Chiefs of Staff includes the most senior uniformed officers within the Department of Defense and advises the President, Secretary of Defense, and the Homeland and National Security Councils on all military matters. Currently, JCS includes six military service chiefs – the Army, Navy, Air Force, Marine Corps, National Guard and Space Force. Despite also being a military service and having the same rank and privileges as other armed services, the commandant of the Coast Guard is only considered a de facto member of the Joint Chiefs, potentially leaving out the Coast Guard's unique perspective on national security concerns," Crist's office noted.
"The Coast Guard plays a key role in keeping our nation safe, making the service more than worthy of a seat at the Joint Chiefs of Staff table," said Crist on Tuesday. "Including the Coast Guard commandant as a full voting member of the Joint Chiefs will reinforce the value of the Coast Guard to our national defense, bring the Coast Guard in-line with other military services, and elevate the Coast Guard's role in Florida and across the globe."
"Unlike the other U.S. Service Branches, under current law, the US Coast Guard does not have an official seat at the table as a Joint Chief. While the U.S. Coast Guard falls under the Department of Homeland Security, its work with the Pentagon is constantly growing," said Palazzo. "The Coast Guard plays a very important role in our National Defense Strategy and it is past time they have an equal role when it comes to advising the President, the Secretary of Defense, and the National Security Council."
Crist's bill was sent to the U.S. House Armed Services and the Transportation and Infrastructure Committees on Tuesday. So far, Palazzo is the only co-sponsor in the House and there is no companion measure over in the U.S. Senate.
Reach Kevin Derby at kevin.derby@floridadaily.com.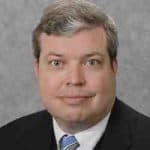 Latest posts by Kevin Derby
(see all)