On Friday, U.S. Rep. Charlie Crist, D-Fla., who sits on the U.S. House Appropriations Committee, announced the U.S. Commerce Department will send a grant to the Tampa Bay Regional Planning Council to help create an economic strategy for the region.
Crist said the $210,000 will come from the Economic Development Administration. The news funds "will double the amount being invested by Tampa Bay counties, establishing an economic development strategy for the future that supports capital investment and job creation in the region."
"Our fast growing region requires more and more collaboration at the county level because so many decisions, whether involving transportation or climate resiliency, are interrelated and need to be interconnected," said Crist. "This funding will allow the Regional Planning Council to create a roadmap for our economic future that maximizes our region's strengths and prepares us for challenges down the road."
"This EDA grant supports the development and implementation of a comprehensive economic development strategy (CEDS) for the region served by the Tampa Bay Regional Planning Council, which comprises the counties of Citrus, Hernando, Hillsborough, Manatee, Pasco, and Pinellas. The CEDS process is designed to bring together the public and private sectors in the creation of an economic development roadmap to diversify and strengthen the regional economy," the congressman's office noted.
After winning three statewide offices as a Republican, including being elected governor in 2006, Crist left the GOP in 2010 and joined the Democrats in 2012. After a failed bid for the U.S. Senate in 2010 and coming short in the 2014 gubernatorial race, Crist bounced back in 2016, defeating then U.S. Rep. David Jolly, R-Fla., in a close race to represent parts of Pinellas County in Congress. Crist did even better two years later, handily defeating businessman, veteran and educator George Buck 58 percent to 42 percent.
Crist represents a swing district and a crowd of Republicans is already lining up to take him on in 2020. Hillary Clinton pulled 49 percent here in 2016 while Donald Trump took 46 percent. That slight edge is also evident in party registrations as well. In the 2018 election cycle, 37 percent of the district were Democrats and 34 percent were Republicans–meaning the 29 percent outside the two parties have a major say as Crist runs for a third term this year.
Reach Kevin Derby at kevin.derby@floridadaily.com.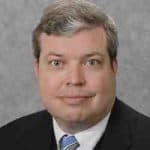 Latest posts by Kevin Derby
(see all)