A longtime ally of the Clintons will be hitting the Sunshine State on Thursday as he looks to boost Tallahassee Mayor Andrew Gillum, the Democratic gubernatorial candidate.
On Wednesday, the Gillum campaign announced that former Gov. Terry McAuliffe, D-Va., a possible presidential candidate in 2020, will be heading to Fort Myers on Thursday "to talk about the importance of electing a governor who will fight to make healthcare more affordable and protect healthcare for preexisting conditions" and "will highlight Ron DeSantis' refusal to release a healthcare plan — just 12 days from Election Day — and his record of voting to take healthcare away from Floridians."
"Only one candidate in this race has promised to expand Medicaid and coverage for pre-existing conditions for all Floridians — and that's Andrew Gillum," said McAuliffe on Wednesday. "While Ron DeSantis refuses to release a health care plan, his abysmal record speaks for itself and this is one of the most important reasons Floridians must make their voices heard in November."
A major fundraiser for the Democrats, McAuliffe co-chaired President Bill Clinton's reelection campaign back in 1996 and led Hillary Clinton's 2008 campaign for the Democratic presidential nomination. He also led the Democratic National Committee (DNC) during President George W. Bush's first term when he oversaw major setbacks for his party in 2002 and 2004.
McAuliffe ran for the Democratic gubernatorial nomination in Virginia back in 2009 but was routed by Creigh Deeds in the primary. Four years later, McAuliffe bounced back, winning the primary and upsetting state Attorney General Ken Cuccinelli in the general election. Virginia allows governors to serve a single term and not run for reelection.
After leaving office, McAuliffe has opened the door to returning to national politics, including running for president in 2020.
Kevin Derby can be reached at Kevin.Derby@floridadaily.com.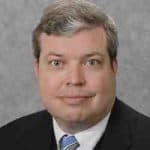 Latest posts by Kevin Derby
(see all)