One of the closest congressional races in Florida was impacted this week as the husband of a major candidate's ties to a Ukranian oligarch, who is accused of backing contract murders, were exposed on the national level.
The Daily Beast examined Robert Powell's ties to Ukranian businessman Ihor Kolominsk. Powell is the husband of Debbie Mucarsel-Powell who is seeking the Democratic nomination to challenge U.S. Rep. Carlos Curbelo, R-Fla.
The National Republican Congressional Committee (NRCC) quickly weighed in, taking aim at Mucarsel-Powell on Monday.
"Here's what Debbie Mucarsel-Powell woke up to this morning: 'Shady Oligarch's Firm Paid Dem Candidate's Husband $700,000.'The Daily Beast reports that Debbie's husband is on retainer as an attorney for Ukrainian oligarch Ihor Kolominsky's companies. The Daily Beast also reports that the shady oligarch "has been accused of sponsoring contract killings." Well then! The Mucarsel-Powell campaign is off to a great start this week," noted Madison Anderson, a spokeswoman for the NRCC.
Mucarsel-Powell's campaign pushed back in an interview with the Miami Herald on Tuesday.
"Debbie Mucarsel-Powell is running for Congress, not her husband. To imply that Debbie has anything to do with an indirect shareholder of a parent company that once employed her husband is an enormous stretch," said Michael Hernandez, a spokesman for the campaign.
Curbelo is a top target for Democrats as he represents a swing district in South Florida. In recent years, that district has seen some national attention. Republican state Rep. David Rivera won the seat in 2010 beating Democrat Joe Garcia. With Rivera hindered by scandals, Garcia beat him two years later. Hobbled by scandals himself, Garcia lost to Curbelo in 2014. In a rematch in 2016, Curbelo defeated Garcia again.
Kevin Derby can be reached at Kevin.Derby@floridadaily.com.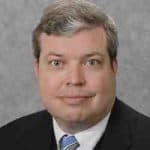 Latest posts by Kevin Derby
(see all)
Laurel Lee Backs Marco Rubio's, Scott Franklin's Bill to Help Florida Specialty Crop Producers With Insurance Coverage

- December 6, 2023, 10:00 am

Neal Dunn Warns DHS that Chinese Nationals Entering the U.S. Through the Northern Mariana Islands

- December 6, 2023, 6:00 am

Greg Steube Wants to Reform Flight Access, Gate Passes for Caregivers, Parents, and Guardians

- December 5, 2023, 8:00 pm