On Monday, conservative leader Anna Paulina Luna ramped up her campaign for the Republican nomination to challenge U.S. Rep. Charlie Crist, D-Fla.
Luna, an Air Force veteran whose husband earned the Purple Heart and Bronze Star when he served, stressed her conservative credentials this week.
"This community deserves to be served by someone who isn't afraid to stand up and fight for its future. Throughout my life, I've been knocked down, underestimated and told I wasn't enough. But every time, I picked myself up and came back fighting. I'm a warrior… and I'll fight with the same passion for the people of Pinellas County," said Luna. "I'm extremely excited to earn the opportunity to represent Florida's 13th District in Congress. I look forward to protecting our veterans and service members, the Constitution and our natural environment. I can't wait to meet every voter, share my plan and earn their support."
Luna worked for conservative group Turning Point USA as the director of Hispanic engagement, She also helped found Bienvenido which her campaign noted is "the largest conservative Hispanic outreach organization in the United States." Her campaign also stressed her work with Force Blue and other conservation efforts, insisting she is an "avid defender of the environment."
After winning three statewide offices as a Republican, including being elected governor in 2006, Crist left the GOP in 2010 and joined the Democrats in 2012. After a failed bid for the U.S. Senate in 2010 and coming short in the 2014 gubernatorial race, Crist bounced back in 2016, defeating then U.S. Rep. David Jolly, R-Fla., in a close race to represent parts of Pinellas County in Congress. Crist did even better two years later, handily defeating businessman, veteran and educator George Buck 58 percent to 42 percent.
Crist represents a swing district and a crowd of Republicans is already lining up to take him on in 2020. Hillary Clinton pulled 49 percent here in 2016 while Donald Trump took 46 percent. That slight edge is also evident in party registrations as well. In the 2018 election cycle, 37 percent of the district were Democrats and 34 percent were Republicans–meaning the 29 percent outside the two parties have a major say here.
Luna faces a crowded field in the Republican primary including small business owner Matt Becker, Buck, attorney Sheila Griffin who ran for a St. Petersburg City Council seat back in 2015, and attorney Amanda Makki who worked as a health care lobbyist and as an aide to U.S. Sen. Lisa Murkowski, R-Alaska.
Reach Kevin Derby at kevin.derby@floridadaily.com.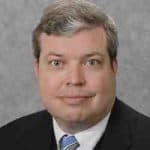 Latest posts by Kevin Derby
(see all)