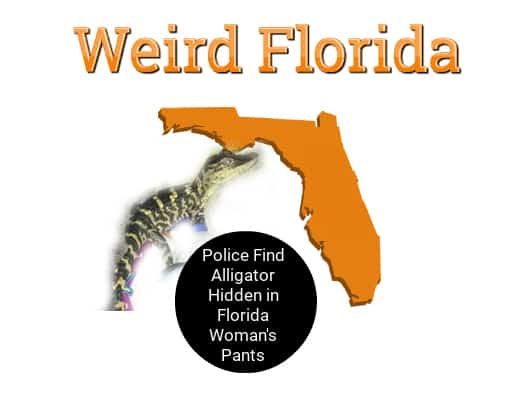 A traffic stop on Tamiami Trail in Punta Gorda, also known as the original "Alligator Alley," gave extra credence to the route's nickname earlier this week when a woman pulled a juvenile alligator out of her pants and showed it to a Charlotte County deputy.
According to reports from the Miami Herald and Charlotte County Sheriff's Office, the bizarre encounter took place at about 3:30 a.m. on Monday in Punta Gorda. According to the incident report, deputies pulled over Michael Clemons, 22, for allegedly failing to come to a complete stop at a stop sign. As Clemons discussed the alleged violation with the deputy, he informed the deputy that he and his passenger Ariel Machan-Le Quire, 25, were collecting reptiles and amphibians from under the overpass. To ensure they were complying with wildlife laws, the deputy asked if he could inspect the vehicle for any wildlife that they were not supposed to possess.
Clemons consented and all of his bags had clothes and other personal items, the deputy said. Machan-Le Quire then gave permission to search her backpack which was on the floorboard near her. According to the deputy, Machan-Le Quire's backpack contained 41 small turtles which prompted him to ask her if she had anything else.
"Ariel opened the backpack that was on the passenger's floorboard that revealed 41 small turtles," the deputy wrote in the report. "Then she pulled the alligator from her pants."
Florida Fish and Wildlife Commission (FWC) was then called to investigate but FWC has not disclosed if the couple was charged for any violation.
Latest posts by News Desk
(see all)