Read the most recent crime stories that made headlines across the Sunshine State.
Three Men Sentenced For Four Carjackings In Central Florida
U.S. District Judge Paul Byron has sentenced Jeffrey Noel, Herichie Paul and Awetu Megersa to 25, 16, and 13 years in federal prison, respectively, for carjacking and possessing a firearm in furtherance of a crime of violence.
According to the U.S. Department of Justice and court documents, Noel, Paul and Megersa were part of a carjacking crew that carjacked four victims at gunpoint in Orange, Osceola, and Seminole counties during the first week of January 2017. One victim, a fast-food delivery driver, was confronted by the defendants and others while attempting to deliver food to an abandoned apartment in Orange County. The defendants forced the victim into the apartment at gunpoint and then removed the victim's clothing, cellphone, wallet, and the keys to his minivan. A few days later, another victim was carjacked at gunpoint as he was returning from work.
This case was investigated by the FBI. It was prosecuted by Assistant United States Attorney Nathan W. Hill.
---
Man Who Detonated Explosive Device In Tampa Pleads Guilty To Federal Destructive Device Charge
United States Attorney Maria Chapa Lopez announced that Joseph David Caltagirone pleaded guilty to possessing an unregistered destructive device. Caltagirone faces a maximum penalty of 10 years in federal prison. A sentencing date has not yet been set.
According to court documents, on April 11, 2018, members of the Tampa Police Department Bomb Squad were conducting training on North 12th Street in Tampa when they heard a loud explosion. The officers observed a large greyish-white smoke plume several blocks away, rising above East Columbus Drive. They canvassed the neighborhood, eventually ending up at Caltagirone's residence.
Inside that residence, officers discovered PVC piping, a hobby fuse, and precursor chemicals such as potassium nitrate, air float charcoal, and sulfur. Officers also discovered an assembled destructive device resembling a "pipe bomb." The device had been constructed using a PVC pipe and an improvised wire initiator. The pipe contained an explosive mixture called Tannerite. Exploding the device would have projected PVC fragments at high velocities in all directions. Caltagirone admitted to having designed, constructed, and possessed the devices.
This case was investigated by the Bureau of Alcohol, Tobacco, Firearms and Explosives and the Tampa Police Department. It is being prosecuted by Assistant United States Attorney Frank Murray.
This case was brought as part of Project Safe Neighborhoods (PSN), a program that has been successful in bringing together all levels of law enforcement to reduce violent crime and make our neighborhoods safer for everyone. In the Middle District of Florida, U.S. Attorney Maria Chapa Lopez coordinates PSN efforts in cooperation with various federal, state, and local law enforcement officials.
---
Tampa Woman Pleads Guilty To Money Laundering Conspiracy Related To IRS Impersonation Scams
United States Attorney Maria Chapa Lopez announced that Brenda Dozier has pleaded guilty to conspiracy to commit money laundering. Dozier faces a maximum penalty of 20 years in federal prison. Pursuant to her plea agreement, Dozier has agreed to pay approximately $225,000 in restitution to the victims of the conspiracy and has consented to a forfeiture money judgment in the same amount. A sentencing date has not yet been set.
According to the plea agreement, from July 2015 through at least November 2015, Dozier laundered money that had been extorted from U.S. residents by conspirators residing in the states and overseas. India-based conspirators extorted money by impersonating IRS officers and misleading multiple victims to believe that they owed money to the IRS and would be arrested and fined if they did not immediately pay their alleged back taxes. As part of the conspiracy, Dozier opened bank accounts, which she used to receive the fraud proceeds, typically via interstate wire transfers. Once Dozier had retrieved the proceeds, she provided the money to her co-conspirators. Dozier was paid for opening the accounts and conducting the transactions.
On October 11, 2018, three co-conspirators, Nishitkumar Patel, Hemalkumar Shah, and Sharvil Patel were charged in a related case with conspiracy to commit wire fraud and extortion, and with individual counts alleging wire fraud, extortion, money laundering, and aggravated identity theft for their roles in this scheme. Their trials are scheduled to begin in April 2019.
This case was investigated by the Treasury Inspector General for Tax Administration (TIGTA), the Internal Revenue Service – Criminal Investigation, the Florida Department of Law Enforcement, and the Tampa Police Department. It is being prosecuted by Assistant United States Attorney Rachel K. Jones.
---
Sex Offender Sentenced To 14 Years For Possession Of Child Pornography
U.S. District Judge Paul G. Byron has sentenced David Gilbert to 14 years in federal prison for possessing child pornography. Gilbert had pleaded guilty on September 20, 2018.
According to court documents, on March 30, 2018, Gilbert, a sex offender, had more than 400 images of child pornography, including videos, in his possession. The images involved young children, some as young as two or three years old, engaging in sex acts, including bondage and bestiality. Gilbert also possessed nude photos of a 13-year-old girl, who was identified by law enforcement as the child of Gilbert's ex-girlfriend.
During an interview with law enforcement officers, Gilbert admitted to downloading child pornography, and stated that he "could not help himself." Gilbert has prior convictions for committing lewd and lascivious acts in the presence of a child and for possessing material depicting sexual conduct by a child.
This case was investigated by U.S. Immigration and Customs Enforcement's Homeland Security Investigations and the Brevard County Sheriff's Office. It is was prosecuted by Assistant United States Attorney Kara M. Wick.
This is another case brought as part of Project Safe Childhood, a nationwide initiative launched in May 2006 by the Department of Justice to combat the growing epidemic of child sexual exploitation and abuse. Led by United States Attorneys' Offices and the Criminal Division's Child Exploitation and Obscenity Section, Project Safe Childhood marshals federal, state, and local resources to locate, apprehend, and prosecute individuals who sexually exploit children, and to identify and rescue victims. For more information about Project Safe Childhood, please visit www.justice.gov/psc.
---
Illegal Immigrant Sentenced For Theft Of Social Security And Medicare Benefits
U.S. District Judge Carlos E. Mendoza has sentenced Andres Arteaga Perez  to 13 months in federal prison, followed by one year of supervised release, for theft of government funds. As part of his sentence, the court also entered a money judgment in the amount of $423,602.80, the proceeds of the crime, and ordered Perez to pay restitution.
Perez had pleaded guilty on October 18, 2018.
According to court documents, Perez, a Mexican citizen with no legal status in the United States, used a Georgia man's name and Social Security number to apply for and receive Social Security disability benefits. Perez also applied for and received Medicare benefits, using the identity of the same individual. In total, Perez stole or converted approximately $56,000 in Social Security benefits and approximately $367,000 in Medicare benefits to which he was not entitled.
This case was investigated by the Social Security Administration – Office of the Inspector General, the Department of Health and Human Services – Office of Inspector General, and the U.S. Postal Inspection Service. It was prosecuted by Special Assistant United States Attorney Suzanne Huyler.
Teens Charged With Murdering Man at Coconut Creek Walmart 
Coconut Creek Police Department published a release regarding three arrests in the homicide that occurred last month in the parking lot of the Walmart in the 5500 block of Hillsboro Blvd.
The Coconut Creek Police Department has made three arrests in the murder of Michael Robin Griffin, age 56, of Coconut Creek. The homicide occurred in the south parking lot of Walmart, located in the 5500 block of Hillsboro Boulevard on October 12, 2018. Griffin was found deceased in the parking lot at approximately 3:00 a.m. that morning. The three individuals in custody are:
• Jason Prendergast Jr., age 17, of Port St. Lucie,
• Jermaine W. Atterbury, age 18, of Greenacres,
• Dominic Z. Soto, age 16, of Lake Worth.
All three individuals are charged with murder. The victim was shot during the incident. During the course of the investigation, a handgun, believed to be the murder weapon, was recovered.
At this time, evidence indicates the victim went to the Walmart at approximately 1:20 a.m. to pick up some over-the-counter medication for a friend, when he was approached by Prendergast in an apparent robbery attempt. Prendergast shot the victim and fled the scene in a Chevy Avalanche. The Avalanche was seen fleeing the parking lot on Walmart surveillance video. Evidence suggests Atterbury was the driver of that vehicle, and Soto, along with Prendergast, were passengers.
Coconut Creek's investigative team, led by Detective Joe Baretto, developed Prendergast, Atterbury, and Soto as suspects in Griffin's murder. The investigation was extensive and required coordination with state, local, and federal la
w enforcement agencies working across county lines.
"Although violent crimes of this nature are certainly uncommon in Coconut Creek, we are extremely proud of the hard work and ultimate results of our criminal investigation team," explained Coconut Creek Police Chief, Albert "Butch" Arenal. "They worked day and night for weeks on end, never doubting that they would solve this case."
The Coconut Creek Police Department would like to express our sincere appreciation to the following agencies who worked diligently to assist us throughout this investigation: the Coral Springs Police Department, the Boynton Beach Police Department, the Palm Beach County Sheriff's Office, the Riviera Beach Police Department, the St. Lucie County Sheriff's Office, the FBI Violent Crimes Task Force, and the U.S. Marshal's Fugitive Task Force.
At this point, Griffin's murder is the only homicide to occur in the City of Coconut Creek this year.
Florida Man Steals $40,000 from Dementia Victim to Buy New Teeth and a Puppy
Timothy Powell, 52, of Plantation,FL, allegedly scammed an 80-year-old man with dementia whose ID was sold on the dark web. Powell used the idea to purchase new teeth through $40,000 worth of dental work. In addition to the dental work, Powell also planned to purchase a French Bulldog puppy for $10,000. According to a report from WFTV, Powell told investigators that he was recruited by crooks who urged him to have his rotted teeth replaced with pearly white implants to improve his appearance and increase his success rate in future scams.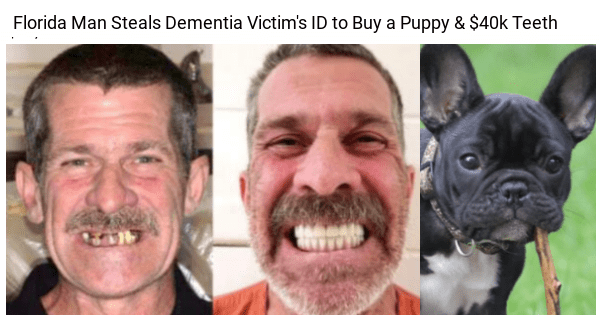 Powell's scam unraveled when his victim's caretaker noticed two large invoices from a  South Florida dental clinic.
"I never heard about anything like that," the victim's brother, Jake Brenner, told the outlet. "It's kind of different."
---
---
ARCHIVES
Florida Man Confesses Theft of Boy Scouts Trailer After Arrest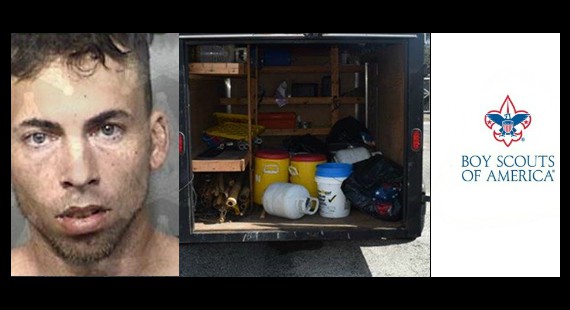 Police arrested, Stephen Joseph Petnel 36, of Melbourne, FL after he confessed to stealing a Boy Scouts of America Troop trailer.
Melbourne Police say they were able to locate the Boy Scout trailer on Wednesday, Aug. 15 after verifying the VIN number on the trailer. The trailer had been painted and the Boy Scout lettering was removed by Petnel to hide the trailer, according to police, according to Space Coast Daily.
Petnel was charged with two counts of Grand Theft, possession of burglary tools and removing/altering personal property.
Satanist convicted of trespassing after praying at ECUA meeting
David Suhor, a local religious freedom activist and Satanist, was convicted last week of trespassing and resisting arrest at an Emerald Coast Utilities Authority (ECUA) meeting earlier in the year
The Pensacola News Journal reports that Suhor, a member of the West Florida Chapter of the Satanic Temple, was arrested during a February ECUA meeting and charged with trespassing and resisting arrest without violence. During Suhor's sentencing, a judge sentenced him to three months probation.
According to ECUA Chairwoman Lois Benson, the board holds a prayer before the meeting officially starts. Suhor approached the dais and continued to recite the "Lord's Prayer" after Benson tried to start the meeting.
Officials say a deputy and a security guard had to drag Suhor from the meeting. Suhor drew national attention in 2016 when he delivered a Satanic prayer before the Pensacola City Council.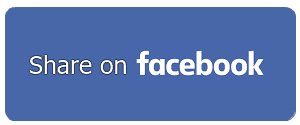 ---
Eustis woman accused of shoplifting steak in her pants at Publix
Eustis Police responded a call regarding a shoplifter at a local Publix on Monday. According to
WKMG News 6
and Eustis Police, suspect Bobbie Talmadge, who originally gave police the alias of Betty Blanton before telling them her real name, said she had been dropped off by her neighbor who asked her to steal food for a cookout later in the day.
According to arrest records, the store's security observed her concealing packages of meat and two spray-on deodorants into her pants and purse. Talmadge passed all points of sale and exited the store before she was stopped, police say.
Publix's loss prevention officer on site provided a tab for the stolen items, which included two New York strip steaks, a ribeye steak, a Porterhouse steak, T-bone steak cuts and Publix chicken wings, totaling $121.37.Talmadge was charged with petty theft with two or more convictions and providing a false name to law enforcement.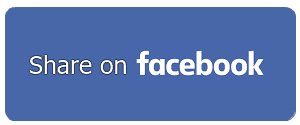 ---
Davenport Man accused of dumping 10,000 gallons of used cooking oil in Polk County
A septic tanker truck driver allegedly dropped one of the largest illegal dumps in Polk County history. According to reports from the Lakeland Ledger and Polk County Sheriff Grady Judd, Peter Rodriguez is accused of purposely spilling about 10,000 gallons of brown-and-orange slick sludge of used cooking oil underneath the palm and pine trees in a vacant lot along U.S. 27 in Davenport.
According to the Polk County Sheriff's Office, their agricultural arimes detectives arrested Rodriguez after they found him at a nearby Dollar General store — cooking oil leaking out of the drain spout of a pump truck they determined he was operating.
"Our investigators worked quickly to find out where the oil from the 'Super Spill' came from," PJudd said. "Hazmat tested it and determined it's not hazardous to the public."
According to detectives, Rodriguez eventually admitted to dumping the sludge but said he "had to do it to keep his job." Brownies Septic and Pumping, his employer, told deputies Rodriguez had no need to dump the oil in the vacant lot because the company picks up the oil from various locations and then disposes of it at its place of business in Orlando where it is refined and sold.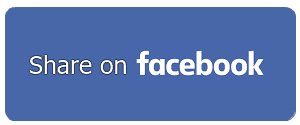 ---
Tampa man shoots Facebook friend in buttocks after political argument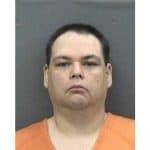 An online conversation went offline and out of hand in Tampa after one man allegedly shot a Facebook friend over a political dispute. According to the Tampa Tribune, Brian Sebring was charged aggravated battery with a deadly weapon and carrying a concealed firearm.
Investigators said Sebring went to Alex Stephens' home with a Glock handgun and AR-15 rifle and honked his truck horn, prompting Stephens to "sprint" toward him. Tampa police said
Sebring fired two shots, hitting Stephens in the right thigh and buttocks.
"I took two steps back, pulled my gun. Shot him in the hip and when he ran, I shot him in the butt," Sebring said.
Sebring surrendered to police and has been charged with aggravated battery with a deadly weapon and carrying a concealed firearm. Stephens is expected to recover from his injuries.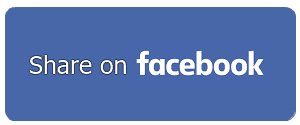 ---
Cows Help Deputies Corral Suspected Car Thief in Central Florida
Seminole County Sheriff's Office's helicopter team and Sanford's Police department got a friendly assist from several cows.
Authorities were in pursuit of Jennifer Anne Kaufman, who was riding in a white Subaru with a reportedly stolen tag. Kaufman, 46, was in the car with two others: Erin Leigh Thomas, 38, and Jamie Michael Young, 46, according to the Sanford Police Department's arrest report.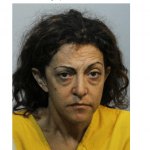 Police told WKMG News 6 in Orlando that Young ran into a pasture to the east and Kaufman ran into a cow pasture to the south of the crash. Another passenger stayed at the crash scene and was arrested, according to police.
Young was found hiding in some bushes and arrested with the help of K-9s, according to the report. As the video above shows, the Seminole County Sheriff's Office aerial alert team continued to track Kaufman running through the cow pasture, where she encountered approximately 20 cattle that corralled her for authorities to apprehend.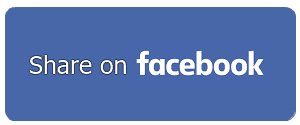 –
---
Read the most recent reports across Florida involving unusual crimes, animal attacks or bizarre instances that made headlines across the Sunshine State.
Woman jailed for taking native conchs from Key West beach
Shell collecting is a highlight for many vacationers who tour the Florida Keys but one tourist discovered the legal consequences for taking live conchs from the "Conch Republic." According to an article on Flkeysnews.com and FloridaArrests.org, Diana Fiscal-Gonzalez was arrested on July 13 after she allegedly took 40 queen conchs from the shallow waters along beaches in Key West after an anonymous tipster called the Fish and Wildlife Conservation Commission.
Fiscal-Gonzalez will also serve six months of probation and pay a $500 fine plus $268 for court costs. Fiscal-Gonzalez pled no contest and claimed that she didn't know it was illegal to take the state-protected mollusks. Judge Mark Wilson withheld adjudication for Gonzalez which means she won't have a criminal conviction on her record.
Jacksonville Burger King customer appears to hop counter, prepare food
Two Burger King employees were terminated after an impatient customer allegedly took the company logo "have it your way" a bit too far.
According to an article on Action News Jax, Geoffrey and Marcelita Jones were at the Burger King at 937 Dunn Avenue when they witnessed a woman step out of the slow-moving line, walk behind the counter and put on a pair of gloves. A Burger King spokesperson sent a statement that noted "the person in the photo was an off-duty employee who went behind the counter to prepare food. This should not have happened and as soon as the owner of this location was made aware of this incident, the franchise owner terminated the team member and manager for violating their company policies."
A #Jacksonville @BurgerKing customer says a woman in plain clothes went behind the counter, started making her own food after she got tired of waiting in line. @ActionNewsJax @WOKVNews pic.twitter.com/ZaqgVP7l2Q

— Ryan Nelson (@RyanANJax) July 18, 2018
Man swings anchor at another man during a dispute over grilled chicken
A dispute over grilled chicken allegedly inspired one man to threaten another by swinging an anchor in a threatening manner.
According to an article in TCPalm.com, bystanders at Fort Pierce Inlet State Park waved down a St. Lucie County Sheriff's Deputy and reported the incident allegedly involving John Mathews swinging a metal boat anchor around in the air and cursing loudly toward the other individuals on the beach. Upon questioning, Mathews reportedly wept as he told investigators that he confronted another man on the beach because he ruined chicken that was on his grill. Mathews was arrested for disorderly intoxication.
Rabid bat clings to a Florida woman's arm in Hillsborough County
A woman in Sun City Center is being treated for rabies after a bat latched on her arm as she was helping a friend in a parking lot around the 4000 Block of Upper Creek Drive in the Sun City Center area. According to a press release from the Florida Department of Health, the womandidn't see what it was and went home. While at home, she went to the restroom and discovered a small bat clinging to her arm. The woman immediately squished it with a towel.
Florida DOH-Hillsborough was contacted and tested the bat for rabies. The results came back positive. DOH-Hillsborough will be notifying all homes and businesses within a 500-foot radius of where the bat was found. Anyone who has been bitten, scratched or been exposed to the saliva of any wild animal or an animal that is acting unusual should always report the exposure to the local health department. Rabies is a disease of the nervous system and is fatal to warm blooded animals and humans.
In 2018, Hillsborough County has identified seven rabid animals (four cats, two bats and one raccoon) that exposed 15 people and four domestic dogs to the disease. It's clear that there are rabid animals living throughout the county and state.