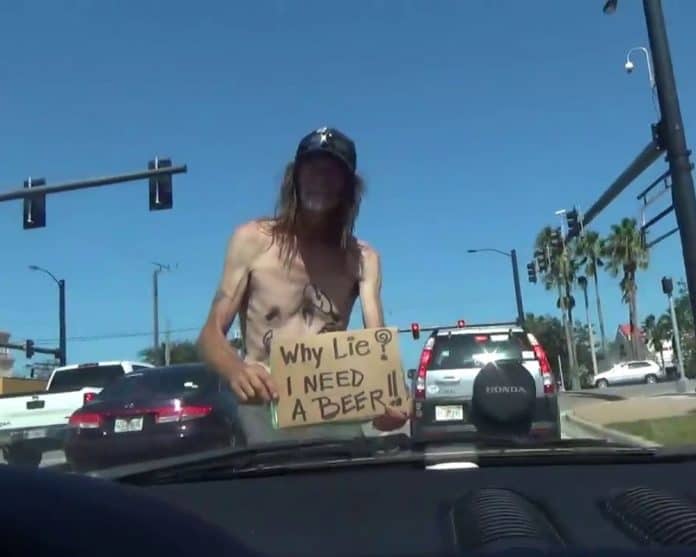 As more than 100,000 tourists descend on Daytona Beach for Speed Week, the city is going through an unprecedented crackdown on panhandling.
After months of debate, the Daytona Beach City Commission passed one of the strictest panhandling ordinances in the nation. The new ordinance basically allows no panhandling anywhere within 150 feet of an intersection.
Daytona Beach Police Chief Craig Capri says once the Supreme Court threw out a panhandling ordinance from another city, Daytona Beach got taken over by beggars
"It just seems like everybody came out and started abusing that right," Capri said. "It's one thing to ask for money but, when you start aggressively asking for money, when you start going into people's cars and opening doors to try and get money, when you are banging on windows, when you are blocking roadways, that's a problem to me."
Capri said six people were hit by cars last year while panhandling and stressed this is a public safety issue. Besides panhandlers, Capri noted that tourists and residents are also put in dangerous situations.
Based on feedback from the community, the ordinance bans panhandling near ATMs and 20 feet from any business. Capri said aggressive panhandling could hurt Daytona Beach's tourism.
"People are like, 'look, I feel threatened, intimidated. I'm scared.' They're not going to come back to Daytona Beach," he said.
The ACLU does not like the new panhandling law. Cary Ragsdale chairs the "Justice for the Homeless Committee" of the ACLU of Volusia and Flagler Counties. Ragsdale said feeling safe and comfortable is not a right–but free speech is.
"A lot of people, I think, have the impression that there is some constitutional right to be comfortable when you're out in public," he said. "It is important for people to understand no such right exists."
Being safe is a constitutional right that Ragsdale acknowledges and believes in. Stressing that he wants the public and panhandlers to be safe, Ragsdale insisted Daytona Beach can accomplish that goal without taking away rights.
"Several elements of the panhandling ordinance spell out behavior that is already illegal," he said. "We are not objecting to any of that. If someone touches someone else without their permission, or blocks traffic, or blocks someone from walking down the sidewalk, then they should be arrested and prosecuted according to the requirements of law."
Capri said the city isn't trying to kick out the homeless, adding that most of the begging that happens in Daytona Beach isn't even by people that are homeless.
"Most of the panhandlers, I would guess between 60 and 80 percent, somewhere in that range, are professional scammers," he said. "They come up. They get dropped off by the van load. It's organized. They will work an intersection, and each person gets that corner for two hours. Then they rotate and split money."
In the meantime, the ACLU is ready to go to court though Ragsdale said the group hoped to find other alternatives.
"We've made several attempts to resolve these matters at the level of civil discourse," he said. "All of those efforts have failed. What the ACLU does do is always reserves the right to litigation when civil discourse fails, and it failed. What we are in the process of doing now is gathering evidence."
In the meantime, Daytona Beach looks ready for a legal challenge. While the legal fight may be just beginning, so is the battle over panhandling on the streets. From Feb. 6 through Tuesday, 26 people were arrested for violating the ordinance. Since it is not a felony, some of them will get time served after a night in jail or other slaps on the wrist.
Capri said the police will do their duty no matter how quickly panhandlers get out of jail.
"They are more than welcome back here as long as they abide by the law but, if they break the law they are going right back to jail," he said. "Zero tolerance."
Reach Mike Synan at Mike.Synan@floridadaily.com.
Latest posts by MIKE SYNAN
(see all)