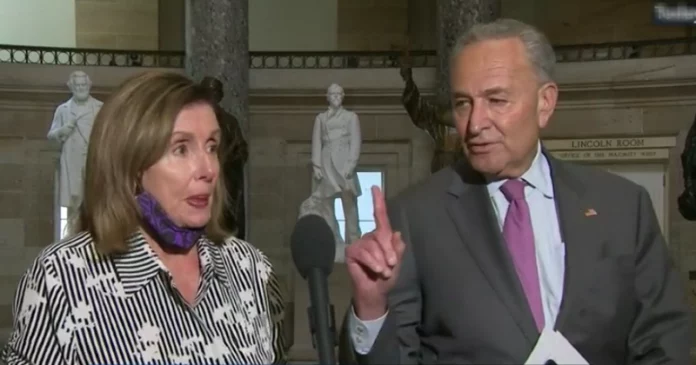 CNN reported that Democrats will try to use the January 6, 2021 attack on the Capitol as a wedge issue against Republicans in 2022.
CNN reported that the Democratic Congressional Campaign Committee (DCCC) released a memo "to remind voters that many Republicans not only fueled the effort to subvert democracy by embracing former President Donald Trump's election lies but spent the past year trying to downplay or dismiss the violent attack."
The DCCC laid out on its website a banner that pin-pointed 139 Republicans in the U.S. House who voted to overturn the 2020 election. The DCCC is also targeting GOP lawmakers and congressional candidates who may have promoted the "Stop the Steal" rally or movement.
But while most polls show that Americans were appalled by the riot, it won't be enough to stop the Democrats from losing the House in 2022.
Yahoo News reported that recent polls show that voters aren't focused on the Jan 6th riot as their top issue. Instead, they are more concerned about inflation and the economy.
CNN noted there's a rift inside the Democratic ranks on how to discuss the Jan 6th riots on the campaign trail.
Some top Democratic operatives are suggesting talking about Jan 6th and former President Donald Trump in the upcoming campaign while others argue there should be more of a focus on pocketbook issues.
"If Democrats think their winning strategy is to just talk about Trump, ask them how that worked for them in the Virginia governor's race last November," said Brett Doster, the CEO of Front-Line Strategies.
Doster added while the Democrats' plan may sell with their base, it still must resonate with independents.
"In 2022, inflation, the economy, COVID… are still top issues but so will be crime and education, "said Doster.
GOP pollster Frank Luntz talked about the upcoming elections to CNBC.
"This country is getting angry," Lutz said. "They're going to take that anger out at the ballot box in November and Democrats are going to pay the price."
Luntz said he recently did a focus group with 14 swing voters and every one of them said the January 6th will not be the main issue in November and they are far more concerned about inflation.