 At the end of last week, Mauricio Claver-Carone was elected president of the Inter-American Development Bank (IDB).
The IDB defines itself as "devoted to improving lives" and as a "leading source of long-term financing for economic, social, and institutional development in Latin America and the Caribbean." It also "conducts cutting-edge research and provides policy advice, technical assistance, and training to public- and private-sector clients throughout the region."
Claver-Carone was elected in a virtual meeting held by the IDB's Board of Governors and will take over from President Luis Alberto Moreno at the start of October.
Currently an aide to President Donald Trump and the senior director for Western Hemisphere Affairs at the U.S. National Security Council, Claver-Carone also served as the U.S. representative to the International Monetary Fund (IMF) and as senior advisor to the Under Secretary for International Affairs at the U.S. Department of the Treasury.
"To be elected president, a candidate must receive a majority of the total voting power of the IDB's member countries as well as the support of at least 15 of the 28 regional member countries (26 borrowing member countries, plus Canada and the United States). The IDB has a total of 48 member countries, with headquarters in Washington, D.C., and offices in all borrowing countries as well as in Europe and Asia," the IDB Noted.
From his perch on the U.S. Senate Foreign Relations Committee, U.S. Sen. Marco Rubio, R-Fla., applauded the choice for the new president.
"The election of Mauricio Claver-Carone as the next president of the IDB comes at a crucial time when our hemisphere is in need of bold leadership. As senior director for Western Hemisphere Affairs at the U.S. National Security Council, Claver-Carone faithfully served our nation with the highest respect and integrity as he advanced policies that promoted our interests and supported our allies in ensuring regional stability. I have no doubt he will continue to work tirelessly to promote economic development and prosperity in Latin America," Rubio said on Friday.
Reach Kevin Derby at kevin.derby@floridadaily.com.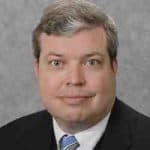 Latest posts by Kevin Derby
(see all)