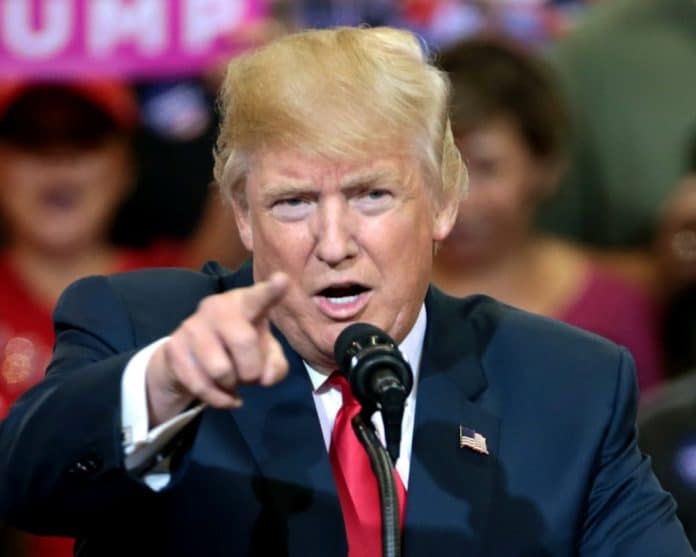 President Donald Trump is hitting the Sunshine State this weekend to help the Republican Party of Florida (RPOF) and to keep his edge in the largest political swing state.
Besides officially moving to Florida in recent weeks, Trump has some advantages in the Sunshine State and other swing states. According to a New York Times poll taken in October and released early last month, most of Trump's base in Florida and five other swing states–around two-thirds–will back him again in 2020 without any hesitation. Even 7 percent of Hillary Clinton backers in those states approve of the president. Trump is competitive against Joe Biden in those swing states and leads Bernie Sanders in them. Trump does far better in the swing states against Elizabeth Warren.
While most minds are made up about Trump, he is in solid shape in Florida and a poll from St. Leo University released this week shows his numbers are improving in the state.
Trump is also tying himself to some fairly popular–and effective–Republicans in Florida. The RPOF is led by state Sen. Joe Gruters, R-Sarasota, a key ally of the president. Gov. Ron DeSantis has remained close to the president after taking over in Tallahassee. As the St. Leo poll shows, DeSantis remains very popular in Florida which should help Trump in his efforts to nail down the state come November. The two Republicans representing Florida in the U.S. Senate–Marco Rubio and Rick Scott–also remain popular according to the poll.
Trump has another reason to focus on Florida and help the RPOF out. Simply put, while the state is almost always close, Republicans know how to win elections in Florida. The Democrats haven't won a gubernatorial election since 1994 and there's only member of that party–Agriculture Commissioner Nikki Fried–holding statewide office. While Barack Obama was the exception, Republicans hold the edge in Florida when it comes to presidential contests. Even in 2018, a very good year for Democrats across the nation, Republicans did well in Florida with DeSantis and Scott winning.
There are other swing states of course–Pennsylvania, Wisconsin, Michigan and, increasingly, Arizona. But Florida is the third largest state when it comes to Electoral College votes and Trump and the GOP start 2020 with the edge here over whoever ends up with the Democratic nomination.
Ed Dean wrote this analysis. He can be reached at ed.dean@floridadaily.com.