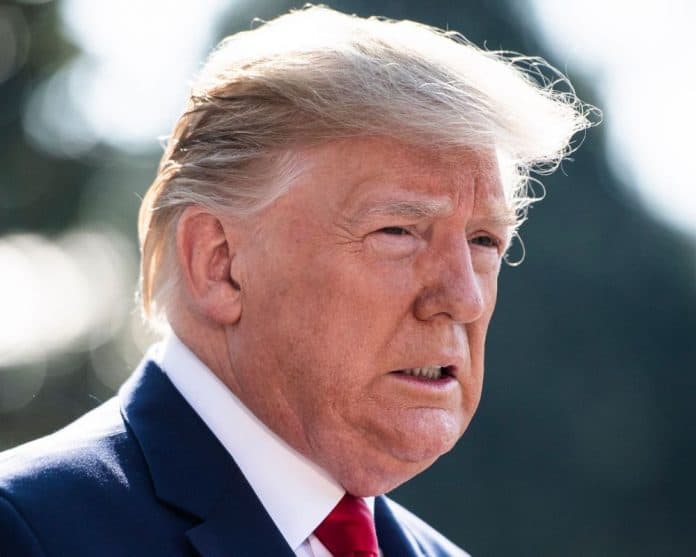 President Donald Trump returned to the campaign trail in triumphant fashion this week, appearing in Sanford on Monday.
Trump thrilled a crowd of thousands as he began the final stretch of the campaign. The president had only been cleared to return to the trail recently after spending time in the hospital after being tested positive for COVID-19. He showed no sign of illness in his hour-long speech to the crowd. That crowd was encouraged, but not required, to wear masks, despite a mandatory ordinance in Seminole County when indoors or closer than 6 feet to other people. Some members of the crowd were wearing their masks but a majority, including most of those standing behind the president, were not.
"If I don't sound like a typical Washington politician, it is because frankly, I am not a politician. I am embarrassed by the term," Trump told the cheering crowd. "And if I don't always play by the rules of Washington establishment, it is because I was elected to fight for you, and I fight harder than anyone has ever fought for you."
The president tore into his Democratic rival, former Vice President Joe Biden, calling him "sleepy" and insisting he's "is not a very nice guy." Trump ripped Biden for apparently forgetting U.S. Sen. Mitt Romney's, R-Utah, name when answering a question on the tarmac, then saying at the podium at his campaign event that he was a proud Democrat running for the U.S. Senate.
Mentioning multiple world leaders, who he called 100 percent sharp, Trump continued to take aim at Biden.
"We have somebody running who is not 100 percent.  He's not 80 percent.  He's not 60 percent. We can't have this. As a country we can't have this," Trump said, insisting Biden is owned by "radical globalists and wealthy donors." Trump claimed these elites "shipped away your jobs, shut down your factories, threw open your borders, and ravaged our cities while sacrificing American blood and treasure."
The crowd repeatedly stood and clapped for Trump, even chanting "We love you" at one point. With just three weeks to go before the election, the excitement was palpable, and the president tapped into that energy, raising his voice multiple times. "These people are crazy. We have to win," Trump proclaimed, saying the radical left will run the country if he loses.
During the speech, Trump touched on his plans to bring drug manufacturers back to Puerto Rico, a nod to the tens of thousands of voters from the island that now call the Sunshine State home. He also claimed Biden was a "Castro lover." a nod to South Florida Hispanics. He called COVID-19 "the plague" at one point and took a shot as his old rival "Crooked Hillary."
Trump got a reaction from the crowd when he claimed a Biden administration would "confiscate your guns. No more Second Amendment, get used to it."
Trump continued to attack Biden and the Democrats, insisting  "they're going to destroy our country" and trying to tap into a deep-seated fear of socialism prevalent among the gathered faithful. "We're not letting them 'cancel culture' us at all," Trump said. "We are proud of our culture, and we are proud of our heritage."
Trump weighed in on testing positive for COVID-19. saying he was "immune" before expanding on his health.
"I feel so powerful. I could walk into that audience. I'll walk in there, and I'll kiss everyone in that audience. I'll kiss the guys, and the beautiful women, and…everybody. I'll just give 'ya a big fat kiss!" Trump said.
Most of the talk about COVID-19 centered around the economy, and how "the cure cannot be worse" than the disease. Trump claimed Biden and the Democrats want to lock everything down, and said you cannot stay in your basement and lead.
As for Biden, he hit Broward County on Tuesday as the stakes look high in the Sunshine State.
Reach Mike Synan at mike.synan@floridadaily.com.
Latest posts by MIKE SYNAN
(see all)