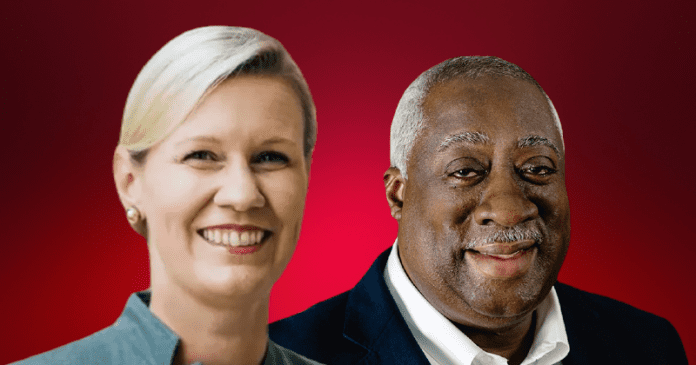 In Central Florida, two state representatives are battling each other in a rare Republican primary pitting two incumbents against each other.
State Rep. Webster Barnaby, R-Deltona, is battling state Rep. Elizabeth Fetterhoff, R-DeLand, in Volusia County.
Fetterhoff, who served in the Florida Army National Guard, describes herself as a pro-life, pro-gun, Florida First Republican. Her stature increased with Florida Republicans after she flipped a state House seat by defeating incumbent Democrat state Rep. Patrick Henry in 2018.
Supporters of Fetterhoff call her "an effective, reliable conservative" who has been in step with Gov. Ron DeSantis's agenda.
Fetterhoff's campaign highlights her accomplishments, including voting to remove Walt Disney World's special provisions, sponsoring legislation to expand cancer benefits for first responders and showcasing her as a supporter of removing the state gas tax anytime prices at the pump go above $4 per gallon.
Volusia County Sheriff Mike Chitwood and the Police Benevolent Association are backing Fetterhoff.
Barnaby's campaign is showcasing his support of more funds for schools, cutting taxes, supporting small businesses and helping improve Volusia County's quality of life.
But Barnaby's opponents are hitting him for his record in Tallahassee, noting he has missed several key votes, including supporting police and fire departments, tax relief bills and a proposal helping child crime victims.
Barnaby missed 25 committee meetings and more than 240 votes last session, showing in Tallahassee on February 7. News outlets reported Barnaby had an undisclosed illness.
The Fetterhoff campaign is also asking how Barnaby got a Paycheck Protection Plan (PPP) loan when other businesses were struggling to get help.
Barnaby reported that his home-based business received $33,000 in PPP loans.
But Daytona talk radio station WNDB reported that there were questions concerning Barnaby's application, noting that certain items didn't match up when it came to using COVID money for his home-based business.
"News Daytona Beach has reached out to Barnaby for comment. We have yet to receive a response," WNDB reported at the end of March.
The West Volusia Beacon reported at the end of March that Barnaby was under scrutiny for the loan.
"I am a businessman, and I've owned this business for years," Barnaby told the West Volusia Beacon "Everything I did was legal."
Though Barnaby denied he acted illegally or improperly, he said the loan was for "marketing." but the Beacon noted he did not elaborate on the type of marketing in which the company deals or specializes.
The business community gives Fetterhoff slightly better grades than Barnaby.
The Florida Chamber of Commerce rated Fetterhoff with a grade of 84 percent while scoring Barnaby with a grade of 78 percent.